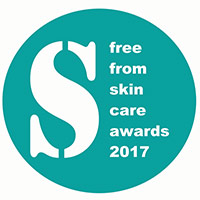 The FreeFrom Skincare Awards 2017

The Shortlist for the 2017 awards will be announced in early June.
The winners will be announced on 7th July 2017 at Love Natural, Love You
For a blog about the entries and judging processes, see here.
---
Janey Lee Grace presenting the award for The Best FreeFrom Skincare Product of 2016 to Fiona Treacy of Kinvara Skincare for their Absolute Cleansing Oil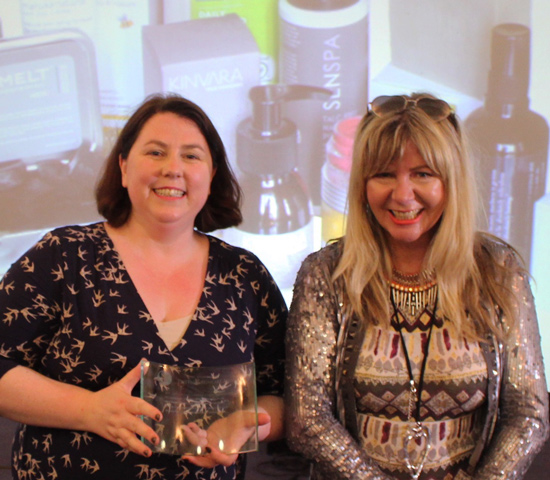 Click here for downloadable images from the presentation!
See here for where you can buy the products
See here for all the winning products
What entrants say about the awards:
'Easy to enter, well organised, good communication, great social media promotion and useful feedback.' Ruth Romano of Ruth Romano
'I believe the FreeFrom Skincare Awards are the most credible of the skincare awards.The products are judged rigorously and fairly by independent testers who are not influenced in any way, other than by the performance of the product, backed up by its clear labelling.' Wendy Stirling of Botanicals Organic Skincare
Click here for the 2016 shortlist
Click here for the winners of the 2015 awards
About the awards ...

The FreeFrom Skin Care Awards are designed to celebrate and encourage skincare and cosmetics manufacturers who create products that exclude many of the allergens, chemicals, fragrances and artificial additives associated with skin and health concerns, ethical and environmental worries, and which may appeal to those looking for purer or more natural cosmetics and products for their skin, including those with problem skin conditions.
Each accepted entry is initially submitted to four experienced Beauty Bible testers to undergo a rigorous month of 'real life' testing. Their feedback is then collated and used to draw up a Shortlist of products, which then go forward to our expert roundtable panel of judges, who choose products to receive bronze, silver and gold 'medals' within their categories. Once these week-long judging sessions are complete, a decision on the Best Free From Skincare Brand and the overall Best Free From Skincare Product will also be made ...
See the Judging page for a more in depth description of the judging process.
Categories, criteria, rules ... and the 2017 awards
There are fourteen categories in the 2017 awards including categories for facecare products, bodycare products, men's grooming, products for problem skin, and many others. For a full category list, plus the criteria and rules of the Awards, see the dedicated Categories, criteria and rules page.
For entry forms and other enquiries, email Alex.
Sponsorship ...
If you are interested in sponsoring a category in the Awards, please see our Sponsorship page, and contact Alex to discuss.