I spent an enjoyable day at the CAM Exhibition at Olympia on Sunday. I'm not a naturally unquestioning or devoted follower of complementary or alt
ernative therapies, it would be fair to say: I'm more open to some (herbalism, acupuncture) for which there may be at least a little in the way of supporting studies and possible rationale, than I am of others (reiki, homeopathy), which are either implausible from a scientific perspective or lack evidence for non-placebo efficacy. But I was really there for the freefrom skincare, of which I found quite a bit I'd not come across before …
It was good to catch up with Sue from Green People – regular exhibitors at CAM, and long-term supporters both of our FreeFrom Skincare Awards and Skins Matter site – who was showcasing their now extensive range, including recent additions in the form of their quinoa hair care range, and their gorgeous Woodland Trust gift collections. It was more of a surprise, but no less a pleasant one, to see George from Bathing Beauty exhibiting. George has become a great unofficial ambassador for our Awards, regularly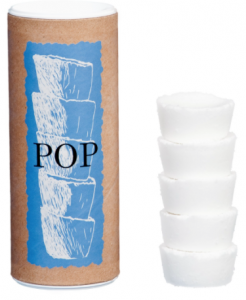 championing them to fellow artisanal producers of natural skincare, and it was great to see that her terrifically innovative Pop Foot Tablets – silver winners in the Hand, Nail and Footcare category in 2015 – are now available in handy packs of five, priced at £10.
Discovering some new brands is always exciting for us. Here's a small selection of the ones we came across at the show.
Hifas Da Terra
This company produce natural skincare and other products using medicinal mushrooms as signature ingredients in all. Skincare range includes soaps, bath care products and serum treatments. They are free from synthetic fragrances and colours, petroleum derived products, silicones, sulphates, phthalates, parabens, DEA and perfumes.
Pure Raw Products / Skinny and Co
This is a small range of coconut-based products, including skincare, in which the coconut oil is extracted and manufactured using a trademarked system where the oil is not heated above room temperature and takes three times longer than other methods.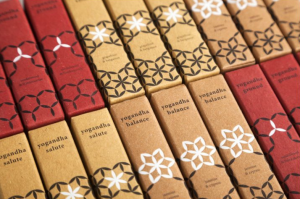 Yogandha
Body oils / bath oils and roller-ball oils, both for skin, mind and mood – these aromatherapy products are handmade in Ireland, 100% natural and vegan. Essential oils and fragrances used include sandalwood, frankincense, cypress, grapefruit, bergamot and juniper berry. They're available in Harvey Nichols, Liverty and Anthropologie.
Skye Meadowsweet Ltd
Organic aromatherapy products which are handmade on Scotland's Isle of Skye, and are free from parabens, SLS/SLES, artificial colours, fragrances or preservatives. As well as assorted creams, soaps, food care, hair care and some oils, there are also natural pain relief products in the range.
Any of our readers attend CAM? What were your discoveries?