Books
The books below refer specifically to skin, personal and household care.
Click here for a much wider range of books dealing with allergy, food allergy and other health conditions covered on the foodsmatter.com site.
FEED YOUR FACE: Dr Jessica Wu
ACNE AND ROSACEA: The Complete Guide: by Alison Bowser
50 THINGS YOU CAN DO TODAY TO MANAGE ECZEMA by Wendy Green
YOUR GUIDE TO ECZEMA by Dr Sarah Wakelin
UNDERSTANDING ECZEMA by Dr David de Berker
ECZEMA AND FOOD ALLERGY: THE HIDDEN CAUSE? by Jennifer Worth
THE TOXIC CONSUMER by Elizabeth Salter Green and Karen Ashton
WHAT'S REALLY IN YOUR BASKET? by Bill Statham
NATURAL STAIN REMOVER by Angela Martin
STOP THE 21ST CENTURY KILLING YOU by Dr Paula Baillie-Hamilton
CLEANING YOURSELF TO DEATH by Pat Thomas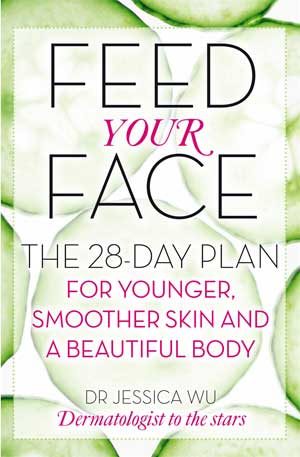 Feed Your Face extract:
What Not to Eat When You Suffer from Frequent Hives
Feed Your Face is dermatologist Dr Jessica Wu's new book, released on the 5th April 2012, and is a 28-day diet plan that promises to 'help you banish blemishes, wipe out wrinkles, shed unwanted pounds and generally feel better'. In this exclusive extract for SkinsMatter.com, Wu examines the triggers for hives (ie urticaria) and the foods you may need to avoid if you experience them. Subscribers to our newsletter can also enter our competition to win one of five copies of the book…
Whenever a patient comes in with a new case of hives, I ask her to begin keeping a diary of absolutely everything she eats or drinks—every vitamin, herb, fizzy drink, snack, medication, illicit drug, or diet drink. (Why illicit drugs? I once knew someone who traced his hives all the way back to the pesticides used on the marijuana he smoked. You never know.) Then when the hives show up again, we review what she ingested 24 to 48 hours before the attack. Sometimes an obvious source jumps out, but most of the time it takes several cycles to spot a pattern. If after several outbreaks we still can't find the source of the hives, I'll refer the patient to an allergist who can perform more extensive testing.
The most common hive-inducing food allergens are shellfish, eggs, cheese, nuts, milk, berries, and alcohol, but sometimes hives occur only when certain foods are eaten together. For example, I know a number of people who can eat shellfish alone or alcohol alone, but put the two together—like a shrimp dinner with Champagne—and they'll wind up in the emergency room. Aspirin, nonsteroidal anti-inflammatories like ibuprofen (Motrin, Advil), and homeopathic or herbal supplements are also common hive triggers, especially if they're new to your diet. If you have recurrent hives, you'll also want to avoid foods that contain histamine or that trigger your body to release histamine.
The majority of hives aren't severe enough to require hospitalization. If you get a few small hives here and there that disappear on their own, there's really no need to seek medical help. If it happens more than a few times a year or lasts longer than a few weeks at a time, though, you should start paying attention. Every exposure to an allergen makes you a little more sensitive, so the next outbreak could be more serious. Start keeping a food diary if you experience an outbreak (ahem, you should be doing this already), and talk to your doctor about your hives at your next regular appointment.
DANGER: The Following May Cause Hives
Foods high in histamine (especially fermented or pickled):
Tofu
Soy Sauce
Aged cheese (i.e., blue or Parmesan)
Canned or smoked fish (fresh is fine)
Sausage and salami
Champagne, beer, wine
Sauerkraut
Eggplant
Vinegar and mayonnaise
Foods that stimulate your body to release histamine:
Egg whites
Citrus fruits
Strawberries
Chocolate
Seafood and shellfish
Alcohol
Milk
Nuts
Aspirin, ibuprofen (Motrin, Advil)
Feed Your Face (£12.99; £6.99 eBook; Little Brown) by Dr Jessica Wu is released on the 5th April 2012. From Amazon.
Acne and Rosacea: the complete guide by Alison Bowser.
'The only comprehensive guide to acne and rosacea, with expert advice on treatment options'. A very clear and readable guide, which is sympathetic to the particular problems and embarrassments faced by people who suffer from either condition.
Click here for an extract from the rosacea chapter.
Published by Vermilion @ £10.99
From Amazon.
50 Things you can do today to manage eczema by Wendy Green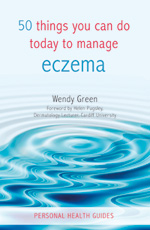 Wendy Green has suffered from eczema for some years, and in her guide,

'50 things you can do today to manage eczema'

, she emphasises that eczema is an individual condition: although a specific treatment or management technique might work for one sufferer, it may not work for another. Sufferers must be prepared to look into their own triggers and causes and work to find their own 'cure'.

The first chapter outlines the functions of the skin, followed by chapters explaining eczema and how to identify your triggers. The guide then moves onto suggestions on how to ease the flare-ups caused by eczema and how to prevent them occuring. Covering diet, environmental factors and any possible allergies that may contribute to the eczema,

'50 things you can do today to manage eczema' is a very detailed guide. There are also some case studies, and a chapter covering eczema and emotions as well as some complementary therapies, with the final pages including useful products and a directory of books and organisations.

This small book, handy to carry around, will be very useful for anyone who has been recently diagnosed, especially parents of children with eczema.

Published by Summersdale RRP £5.99
Available through all good bookshops, through internet booksellers and here:

Your Guide to Eczema by Dr Sarah Wakelin

This book, published in partnership with the Royal Society of Medicine, provides detailed, useful and up-to-date information on eczema. The book is not only informative and practical, it is the most reader-friendly we have come across.

Published by Hodder Arnold ISBN 9780340904985

Understanding Eczema by Dr David de Berker

A compact handbook in the BMA Family Doctor series, covering symptoms, tests and treatments. Brilliantly clear.

Published by Family Doctor Books ISBN 9781903474389

Eczema and Food Allergy: The Hidden Cause? by Jennifer Worth

The author's own amazing story of how she conquered extreme body-covering eczema which attacked her in her fifties. Moving and informative for anyone needing to understand how to manage an elimination diet, plus insight into the many different approaches she tried or investigated.

This is a second edition, updated with special contributions on immunotherapy by Prof. Anthony Frew and Dr John Mansfield.

Published by Merton Books ISBN 9781872560182

The Toxic Consumer by Elizabeth Salter Green and Karen Ashton

For anyone concerned about the man-made chemicals, residues of which are to be found from the polar ice caps to the depths of the oceans - not to mention in our own kitchens, living rooms, cleaning cupboard and make-up boxes - this is a must-have book.
Written by Elizabeth Salter Green of the WWF and freelance writer Karen Ashton it itemises the worst toxic chemicals, where they are to be found, who are most likely to be most sensitive (babies, born and unborn) and how to reduce exposure.

Published by Impact Publishing
Recommended Retail Price: £7.99

Buy this Book

What's Really in your Basket? by Bill Statham
(Previously published as THE CHEMICAL MAZE by Summersdale Publishers Ltd)

For ease and convenience The Chemical Maze really does fit in the pocket. It covers chemicals in both food and cosmetics and uses a clear, traffic light system to differentiate harmless/good
chemical additives from 'bad' ones. It also has a useful glossary and 'conversion chart'. An excellent buy for £5.99.

Published by Summersdale @ £5.99
ISBN-13: 978-1840244823

Natural Stain Remover by Angela Martin

Really excellent little book for any one even slightly chemically sensitive. Instead of the cocktail of often lethal chemicals with which many of us clean our homes Angela Martin suggests a return to baking soda, borax, cream of tartar, glycerin, lemons, vinegar and washing soda - all of which will make an excellent job of cleaning your home but none of which are likely to affect your health. After a brief history of our current chemical addiction, she 'cleans' her way around your house with recipes for natural cleaners and instructions as to how to use them.

The second part of the book is an A-Z of stains - and how to remove them!

Published by Apple Press @ £4.99
ISBN-13: 978-1840924190

Stop the 21st Century Killing You by Dr Paula Baillie-Hamilton

An indepth investigation into how the chemicals in our environment are crippling our immune systems - by both over-activating and suppressing its activities. Over-activation causes super-sensitivity and tissue inflammation; suppression leaves us vulnerable to infection and both chronic and acute long term conditions.
An excellent book not just for anyone with a chronic health problem but for those who do not want to get one!

Published by Random House@ £10.99

Cleaning Yourself to Death by Pat Thomas

An alarming book which describes in graphic detail, the harm that soaps, shampoos, body and home care products can do us all - and the truly unnerving ingredients that they contain.

Its 200 pages give chapter and verse on the toxic chemicals to be found in personal & home care products, the poor to non existent labelling, the lack of safety checks and data, the health and environmental hazards - and non toxic alternatives.

A deeply alarming book, in its broader perspective - but comfortingly re-assuring if you are prepared to follow Pat Thomas' precepts and swop your expensive moisturiser for jojoba oil or your toilet duck for baking soda and vinegar.

Published by New Leaf ISBN 0-7171-31624


Recommended Retail Price: £8.99

Return to FreeFrom Personal and Skin Care Home

Links to FreeFrom Personal and Skin Care products

Eczema and skin care forum