New skin products from the 2011 Allergy and Gluten-free Show
SkinsMatter.com Deputy Editor, Alex Gazzola, reviews the best of what he found in skincare for those with sensitive and problem skins
Most of the talk following the Allergy Show was of the staggering range of gluten-free food products for those with coeliac disease and gluten sensitivities, but there were a number of very interesting skincare products being exhibited too. Here we look at the best of what the show had to offer.
We were delighted to see a number of our favourite natural and sensitive skincare producers at the Allergy Show, none more so than NATorigin, who were exhibiting their multi award-winning range of natural, organic, hypoallergenic make-up and skincare products for sensitive eyes and skin.
Their 'extreme tolerance' products use at least 97% naturally-sourced raw ingredients, are suited to lens wearers or women who experience eye sensitivities or irritation, and they have recently been awarded allergy friendly product status by Allergy UK.
Check out our tried and tested review of NATorigin's eye liner, mascara and make-up remover from last year and look out for a new Tried and Tested coming this summer, which will be looking at a number of NATorigin products, including facial cleansing milk and regenerating serum.
All NATorigin products are free from parabens, phthalate, mineral oil, formol, silicone, chrome and they are Vegetarian Society approved.
About to celebrate just its first birthday, Raw Skin Food offers a selection of ranges of skincare products, and describes itself as "the world's first 100% eco-ethical allergen-free skin food". The ranges include:
* Imperial Whipped – a range for combination skin (occasional dryness with breakouts), and which is suitable for adult acne sufferers.
* Kiss from a Rose – the do-it-all range with balancing, clarifying and hydrating qualities
* Mab Fabulous – for skin which is oily and skin which is prone to irritation, boasting omega-rich and anti-inflammatory ingredients, and suitable for infants, those with hormonal imbalances and with reactive / allergic skin.
* Quench thy Thirst Range – for dry, flakey, sore or chapped skin in need of rehydration.
* Wow Range – described as the 'antioxidant kick-start range for sudden signs of premature ageing', the Wow range is fortified with omega oils and vitamins.
Products in the Imperial Whipped, Kiss from a Rose, Mab Fabulous and Quench thy Thirst Range are face and body tonique, cleansing milk and face and body balm, while the Wow duo consists of repair eye crème and night crème.
All products are unisex and vegan, and are free from the eight most common food allergens – including dairy, wheat, soya and nuts. Additionally, they are free from petrochemicals, parabens, glycerin and SLS.
The Sensitive Skincare Company are an organic and natural producer of skincare which "create a 100% natural moisturising film on the skin, gently soothing, cleansing and restoring its protective moisture function". There are a number of ranges within their portfolio:
* All Natural Bath and Shower – with no-soap body cleanser, cleansing body gel, and pre-bath and shower oil.
* All Natural Moisturising – with organic lipbalm, pure soft organic cotton wash cloth, and instant relief body spray.
* All Natural Haircare – with a duo of shampoo and conditioner.
* All Natural Baby – with baby Tahitian coconut oil, baby cleansing body gel, baby essential pre-bath and massage oil.
* All Natural Bath and Shower Filters – which include dechlorinating filters and shower filters, dechlorinating bath ball and crystal ball bath water filter
All products are free from sodium lauryl/laureth sulphate, petrochemicals, parabens, synthetic fragrances, or any synthetic chemical preservatives.
Familiar to many SkinsMatter.com readers and regular exhibitors at the show Green People were faithfully in attendance, and once again their stand proved very popular with visitors, in part due to their 20% off offer on their magnificent No Scent range, aimed at those with sensitive or eczema-prone skin, and which SkinsMatter.com tried and tested – and very much liked – a few months ago.
Green People's natural skincare products for women, men, teens and babies are made using 70% to 99.9% certified organic plant oils, herbal infusions and fairly traded ingredients, and are free from parabens, petrochemicals, lanolin, SLS/SLES, PEGs, synthetic colours, perfume or additives.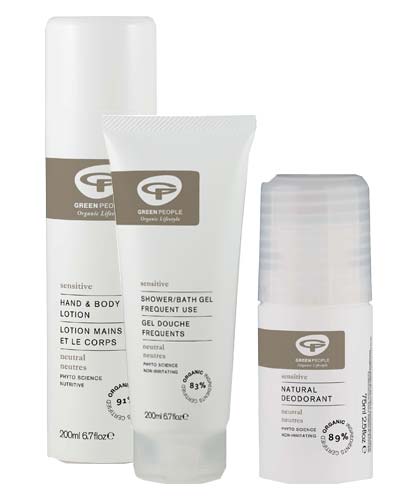 Two allergy bedding companies were at Olympia too – Puraspace and Astex.
Puraspace offer a number of ranges, including:
* Microshield Anti-bacterial Bedding – the products in which are anti-allergy treated to protect from dust mites and also provide anti-bacterial and anti-fungal protection to prevent skin irritation and keep bedding clean;
* Provent Anti-allergy Bedding – whose products are Allergy UK-endorsed and made from a specialist breathable barrier fabric that provides protection from dust mites and their allergens;
* Natural Wool Bedding – which offers a natural defence against dustmites, and also help with body thermoregulation.
As for Astex, they offer two key ranges which tackle dustmite-aggravated eczema (and asthma and rhinitis):
* Astex 'Active' Dustmite Control Covers – which are said to act as a reservoir for a small amount of an active ingredient which is slowly released to ill house dustmites in your bed and bedding;
* Astex 'Pristine' Encasement Bedding Covers – which are made from a very tightly-woven fibre, which prevents dustmite allergens to pass through
And finally, debuting at the show were Salcura, who offer natural solutions for problem skins, including those prone to eczema, dermatitis, psoriasis, acne and urticaria, with anti-itch, anti-bacterial and anti-fungal ingredients.
The many products include sprays, creams, wash products and lotions, and all are suitable for children and adults.
SkinsMatter.com reader can take advantage of a 20% discount offer on Salcura eczema and psoriasis treatment packs, when buying online, by entering the code SM20 at the checkout.
All Salcura products are free from parabens and steroids.
That's it – roll on April 2012….
April 2011
Click here for more articles on skincare