New Skincare at the Natural and Organic Products Europe Show 2016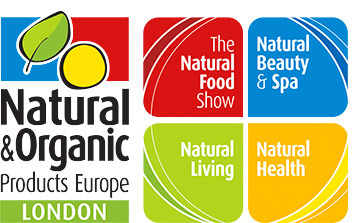 Alex Gazzola rounds up all the interesting 'free from' skincare finds, from the natural and organic trade event of the year!
For the last four years – 2012, 2013, 2014 and 2015 – we have reported on the most interesting finds from the annual NOPE Show – and April's event this year was also particularly strong in new and emerging cosmetic brands with good natural qualities.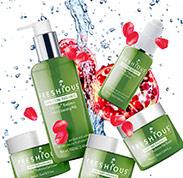 Interesting concept from Soil Association-certified brand Freshious – a "5-a-Day" certified 'meal plan' for your face!
The quintet consist of 2 in 1 Cleansing Milk, Facial Serum, Eye Cream, Day Cream and Night Cream. Each product features five key botanicals – for instance, the Cleansing Milk, boasts lemon, mandarin, pomegranate, avocado and olive, and the Day Cream, pomegranate, avocado, carrot oil, mandarin and olive – and are rich in various omegas, vitamins, antioxidants and minerals.
The entire range is labelled vegan, gluten-free, and free from parabens and mineral oils.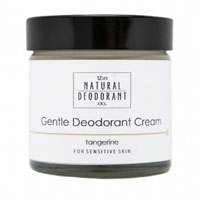 A natural deodorant in three 'flavours', each one in three 'flavours', two sizes and a 'sample pot', is what The Natural Deodorant Co is all about – and we really liked the look of these.
The deodorants are based on shea butter, and on coconut oil (which is a natural anti-bacterial) and magnesium oxide and sodium bicarbonate as odour neutralisers. Add a few botanical essential oils and you have some lovely natural balms.
They come in Active Deodorant Balm – for more 'demanding' days – which are available in orange & bergamot, lemon & geranium, and coriander & lime; Clean Deodorant Balm – for daily use, and available in vanilla & manuka, lemon & geranium, and lavender & chamomile; and Gentle Deodorant Cream – this one is for sensitive skin – available in coconut & shea, tangerine, and vanilla & manuka.
With wholly natural ingredients, they are free from the usual ingredients you may expect – such as sulphates, petrochemicals, artificial preservatives / colourings and fragrance.
Storksak Organics, which actually launched in October but were debuting at the show.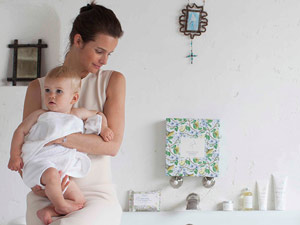 This is a very attractive upmarket collection of natural and organic bath and skincare products for babies, including baby wash, shampoo, baby lotion, baby oil, baby balm and wipes.
The range is free from parabens, SLS, mineral oils, synthetic fragrances, synthetic colours, or linalool. Some products contain honey, so are not vegan, and some contain alcohol (but not the wipes, which are alcohol free).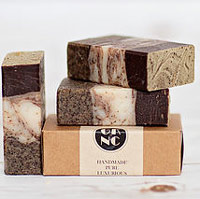 GK Natural Creations were a new-to-us brand, which a large range of soaps, bathing treats and skincare products on offer, which we really liked the look of.
The soaps were all very different – and included such products as unscented black carrot face soap, honey and oatmeal soap, and coffee scrub soap – and the boutique collection of skincare included face oils, salt body scrub, nail & cuticle oil, and shaving soap.
No 'mysterious chemical and synthetic ingredients with unpronounceable names' are used!
Best of the Rest
Iuvo Skincare is a relatively new brand, whose handmade Body Butter Cream, based on shea butter, is Vegan Society registered. They are launching a scrub later in the year.
Soley is a chic Icelandic brand of skincare, which uses native herbs in its formulations; their Birta Lift & Glow Nourishing Serum was a finalist in the Natural & Organic Awards Europe this year. It is available in the UK through Ecco Verde.
Raw Gaia – a FreeFrom Skincare Award entrant – launched its MSM Raw Organic Beauty Cleansing Oil at the show.
Little Butterfly London – also a FreeFrom Skincare Award entrant – launched its Ecocert organic-certified Mother skincare range at the event, including Blossom in the Spring Day cream, Cocoon of Bliss stretchmark butter, Scent of seas toning body serum and Secrets of Starlight rejuvenating night cream. Free from mineral oils, parabens, silicones and artificials.
Penny Badger Botanicals introduced it Simplicity range at the show – Simplicity Rose Day Moisturiser, Cleansing Lotion, Floral Toner and 100% Natural Intensive Serums.
Kalystos launched its Oliveall range of skincare – based on Greek olive oil – and which is fragrance free and described as their 'allergy tested range'.
Westlab Mineral Salts were showcasing their mineral salts bathing range – which includes Epsom salt, Himalayan Salt, and Dead Sea salt – but they also produce body scrubs, muds and a mineral enriched radiance oil.
Terre Verdi – another FreeFrom Skincare Awards entrant – were promoting their rebranded FranChouliPom facial serum and body oil, made with organic argan and pomegranate oils.
Back to personal and skin care home