Tried and Tested Skincare Products
That's the clay to do it: Facial Mud Masks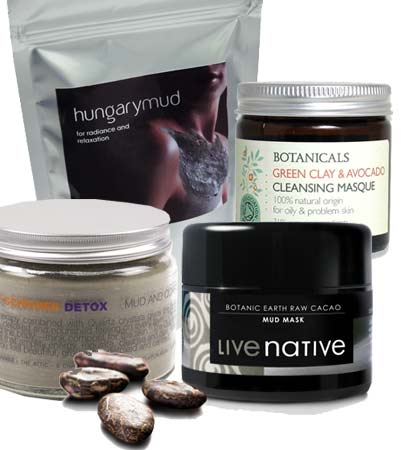 Hazel Davis slathers her T Zone and her cheeks with some intriguing clay- and mud-based facial masks - and masques!
I have always loved a face mask. There's something really redemptive about slathering something on your face that sucks all the bad stuff away. Like a beauty confession box. In my life I have tried muds, peelers, salt scrubs, all sorts. You name it, I've slathered it on my face in the hopes of looking like a glowing Jennifer Garner afterwards. So of course I agreed to try a range of mud masks for Skins Matter. People have been harnessing the power of mud for thousands of years, using it to preserve their skin and detoxify and I am delighted to be joining them …
First on my list was a beautiful big glass tub of Jane Scrivner Mud and Quartz (£40, 500g). So big as to be intimidating, I simply looked at the jar for a few days before getting stuck in and when I did, it was with friends.
The mud comes in powdered form – it's 80% Hungarian mud and 20% ground quartz – and you have to remove a couple of scoops and mix them with water. This is all lots of fun and makes the whole process feel a bit earthy and Good For You but on the other hand, it's a sure-fire way to mix not enough or too much. This might be a clever buy-more tactic on the part of the manufacturer or it could just be that the mud is fresher like this. Anyway, it's at once exciting and slightly annoying. And, of course, messy.
Anyway my friends were glad testers and we pasted the mud on our faces. It smelt properly muddy and felt really thick and textured. After about two minutes our faces had formed into rock-hard masks and none of us could move our lips. We all felt quite tingly. After the requisite 10 minutes we "splashed off" the mud. Or at least we tried. It was scorched on and took quite some removing. I felt that perhaps some of the goodness of the mask might be undone by scrubbing at your face with a brillo pad but after eventual removal all three of us felt definitely rejuvenated and revived. The following morning our faces were soft and relatively clear. Result.
The switch from that to the Botanicals Natural Green Clay and Avocado Facial Masque (£18.95, 60g) was a tough one. The thickness of the Jane Scrivner was reassuring but the Botanicals felt greasy and insubstantial. At first. The smell is divine, though, and after a while really starts to work. And after use (and subsequent uses) my face felt nicely plump and malleable (yeah, that's a good sign, honest) and I returned to it repeatedly, occasionally having a sniff if I was passing. I also tasted it because it smelt so nice. (It didn't taste as nice as it smelt.) The green clay is blended with shea butter and lots of good oils – sunflower, jojoba and lemongrass among them.
The Henry Tianus Raspberry and Mint Deep Cleansing Mask (£23, 30ml) smells absolutely gorgeous and its ingredients (pink clay, raspberry, strawberry, peppermint) are very appealing. But the packaging is a bit silly that it put me off. An impressive green box is spoiled by large formal print label and inside the tub is much smaller which makes it an inevitable disappointment, even if what's inside is truly nice. Also its colour (pink) makes it feel like it's either synthetic (which it definitely isn't) or just ineffective. If I want mud I generally prefer dark brown or green gloop, not pretty pink yoghurt – which could be due to the mix of pink clay and kaolin.
Nonetheless, all that said, it smells lovely and feels nice on the face. My face felt neither worse nor better afterwards but it wasn't an unpleasant experience – and I like that it also contains pro-vitamin B5.
The Hungary Mud (£20, 250g) suffers from the same problem of being as messy and faffy to apply as the Jane Scrivner product, as it's in powder form. But this does mean it can be added to the bath (if you want to feel like you've gotten really dirty). Also it's in a fairly annoying pouch which needs cutting and resealing and has trouble standing up on its own. But it feels great when it's on and my face definitely felt tighter and cleaner afterwards.
The mud is rich in minerals and works differently according to the temperature of the water you add: warm boosts blood flow and supposedly detoxification; cooler water as an anti-inflammatory effect on the body. Warm is the way to go with the face … I used hot water every time, as instructed and I was warned of redness, though none occurred that I noticed. The heat of the water created a lovely tingling sensation when applied and really felt like it was doing the business.
LeBelle Skincare Clay Masque with Papaya (£21, 50ml) was another one with packaging that didn't appeal to me. The blue glass made it seem less "natural" than its competitors, even though the clay inside – made from fine French green clay and Dead Sea mud – smelt really good and the ingredients are top-notch (no dyes, artificial fragrances or colours – so very good 'free from' qualities given the blending involved). I promptly lost the box as soon as it arrived and there were no instructions on the jar so I applied, waited until dry and hoped. My face felt OK afterwards, neither amazing nor bad. I have filed LaBelle under "wouldn't not use but wouldn't go out of my way to buy." It also boasts organic palmarosa essential oil – which I'm fond of.
Warning. The Live Native Botanic Earth Mud Mask (£42.60, 100ml) is not food. So why does it smell so delicious? It's the raw cacao! This is another mix-with-water one but the instructions say to keep moist with a Live Native toner spritzer (which I didn't have so I used a warm flannel instead). Apart from the fact it made my flannel brown – which is the Rhassoul clay – I liked it. My face felt firmer afterwards and still smelled chocolatey much later. I also liked the straw and paper label, which appealed to my earthy needs. And apparently, I'm reliably informed – you can consume it – adding a little to a smoothie is the recommended way to go! It's very superfoody: acerola, acai and spirulina. A detox in and out, then … And it even has a sprinkling of real gold …
More tried and tested freefrom personal and skin care products
Back to personal and skin care home