FreeFrom 'Originals' from the 2015 FreeFrom Skincare Awards
Having told you about some of the amazing FreeFrom Heroes and Eczema Heroes which were submitted to this year's FreeFrom Skincare Awards, we thought we'd tell you a little about the more unusual products which were entered too!
We always have a wide selection of exceptional soothing balms, body oils and face creams entered in the Awards, but it's always particularly interesting to see the less everyday products, or products in an unusual format. This is what our testers thought of a selection of them.
Bespoke Aroma – Soothing Bath Tea Infusion (£4.95)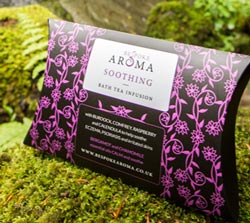 "The instructions were clear and easy to follow. After spending 20 minutes I the bath I felt very relaxed and my skin felt softer. I used the bag as a flannel and rubbed my boy with it and it felt quite soothing. After 4 baths my skin was less red and calmer. The tea bag style product was strange to use at first - but once I got used to the feel of it I liked it. I had 4 baths with this product over 2 weeks and my skin is less red and felt smoother. I have patches of eczema on my body and bath products can irritate it but I found that this product was fine to use.
"The instructions couldn't have been easier! Literally soak a teabag in the bath whilst it's running and leave it in there! It doesn't seem to make a difference to the water at first until you start using it as a flannel, then the water turns cloudy so you know it's doing something.
"It smelled of tea! My skin didn't feel any different at first with just the teabag in the bath, but using it gently as a flannel, wow what a difference! My skin had been horrendously itchy and this was the only thing which managed to give me relief. It softened my skin and left it feeling moisturised. Just to relieve the itching is enough to calm you too so that was a nice side effect of it! It's one to recommend to anyone who needs that kind of relief! I wouldn't change anything - it's perfect! All the ingredients are completely natural too which I liked."
Bathing Beauty, Pop Effervescent Foot Tablet (£9.95 for 5)
"Pleasant peppermint fragrance, lingered on skin afterwards. Feet felt refreshed, especially after a long walk. Really easy to use - this is a tablet that you add to water so no rinsing requred really. Feet felt refreshed, but not moisturised. All natural ingredients – great."
"It reminded me of the smell of kendal mint cake! My skin felt real silky, smooth and soft. The hard skin felt instantly softer underneath my toe area. You didn't need to rinse it off, I just dried my feet with a towel afterwards. I couldn't believe it that after only one use my feet were so much softer to touch. It greatly improved the condition of my feet. I would definitely buy this again, it was wonderful, it really did deliver on its promises."
"For feet this is a perfectly lovely smell! feet felt silky and pampered, a lovely clean sensation, slightly zingy and definitely a pick me up for tired feet! Over the course of a month, using all the tablets has meant I have taken better care of my feet and they feel softer and smoother as a result."
Benecos Nail Pen (£6.95, 2ml)


"Prior to first usage my nails were generally OK but the skin surrounding them, ie., at the sides were dry and "ratty".  After first use they looked like I had applied a base coat, they were shiny and looked healthy. I only applied the product at night time so that it had time to be absorbed overnight. I certainly felt it offered great moisturing properties to both my nails and skin and they looked healthy. The condition appeared much improved and more noticeably the skin around my nails improved greatly. Over the course of a month my nails now look very healthy, moisturised and the "ratty" appearance has subsided. Some instructions would have been helpful. I liked its "pen-like" packaging making it easy to transport and fit into a small handbag."
"The way this product is dispensed is so useful and easy as it's in a twist up brush pen like some concealers. Kept the pen by my bed and used every evening. My cuticles were dry and ragged when I first applied this oil and two of my nails kept splitting. The next morning my cuticles were softer and nails seemed shinier. As the days went by my cuticles became smooth and not ragged and dry. I think the fact it was so easy to use I got into a habit of putting it on each night. After about 3 weeks of daily use my nails were in really good condition."
MIMI Sleeping Beauty Facial Oil (£35)
"Easy instructions and fun to actually mix and make up your own oil. Loved the fact you can personalise your blend to suit your skin. Came with a pump dispenser so it was easy application. Skin felt really nourished and hydrated and not at all greasy. Didn't notice any immeidate change to my skin but loved the way it made my skin feel. You can choose to make this with or without fragrance, I chose with and it has a lovely calming scent with is designed to help induce sleep. Loved the texture of the oil, fast absorbing and non greasy
Absorbs really quickly into the skin. Make up went on well, providing a great base to the skin. Performed really well and made my skin feel great. It did its job and was pretty impressed about how you can tailor this product to suit you. My skin felt softer and more toned, feels constantly hydrated and not dry at all. This is a really good oil. It delivered and though at first I was a bit skeptical about mixing my own product it won me over and would buy this again, Loved the concept of this and the packaging both inside and out was well thought out and lovely."
"I was very impressed to note that within a week or so my recent acne scars had reduced while using this oil. My skin was soft, plump and required less day cream to feel moisturised. My neck and décolletage also felt very soft and well hydrated. This product did all it said it would and more."
Narynda Skincare Heel Balm (£9.50, 50ml)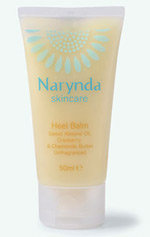 "My heels, which were previously quite rough as I often go barefoot, were immediately softer to the touch and looked less cracked. The texture is incredibly rich, thick and creamy.  This is a fragrance free product which smelt slightly of shea butter.  Defintely right for a foot product which, in my case, needs to be much richer than a hand cream. It took a while to sink in completely but it was well worth the wait. I am walking on air! After a month, no cracked skin at all on my heels they are completely smooth. My skin improved as I worked my way through the tube and I would buy it again."
"Needs a good squeeze to get it out of the tube but very easy to apply. Feet felt better and also felt soft and comfortable. Thick and soothing enough for the back of my heels which are always horribly dry and scaly. A pleasure to use. Real improvement on my whole foot but especially my tough dry cracked heels. Unusual to have such a thick balm in a tube rather than a tub but it worked well and great for taking away on holiday"
Spiral Soaps – Pure Lavender Shampoo Bar with Organic Oil (£8)
"The instructions were clear and I found the bar easy to apply. Hair felt cleansed and healthy. It was easy to apply and there was a good lather which I have found hard to get some with some SLS free champoos. I really liked the fragrance - it smelled fresh and clean. I liked this shampoo and I think it has kept my hair very healthy which is a struggle because it spends a lot of time in chlorine. I would definitely buy it again."
"Easy to use - just rub over hair. Hair felt clean and soft after use. Cleansed hair well, without stripping it. I like shampoo bars due to the minimal packaging and environmental impact of this."
"I thought it would be drying to use a shampoo bar, but was surprised it wasn't as drying as I'd expected. Hair felt soft and clean. It cleanses pretty well. Fragrance was a light lavender, and it wasn't too much or too empowering. Texture was creamy and fluffy and was pleasant. Hair and scalp were thoroughly cleansed and smelling pleasant by the end of the month."
"No irritation or sensitivity. My hair felt so much better - it tends to be fine and limp and affected by the colouring on it. I know no product can perform miracles on poor hair but this definitely helped with the feel and health of my hair. Lots of natural ingredients such as brocolli seed oil, nettle, horsetail and sage and essential oils"
More tried and tested freefrom personal and skin care products
Back to personal and skin care home