Tried and tested 'FreeFrom' Personal and Skincare Products
Below are links to our 'tried and tested' reviews of skincare products which have undergone rigorous testing by our writers or a team of dedicated reviewers. You can find links to many other manufacturers and ranges in our skincare directories.
---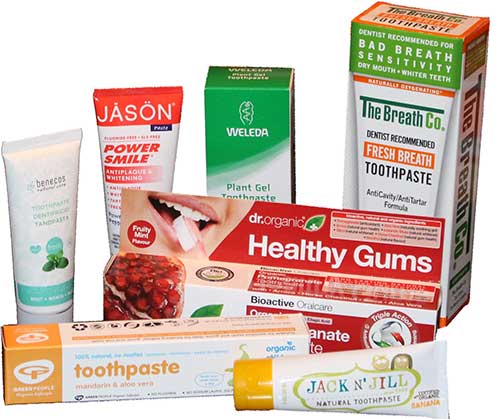 Brush Strokes – we investigate 'freefrom' toothpastes - July 2016
FreeFrom Originals from the 2015 FreeFrom Skincare Awards - November 2015
FreeFrom Eczema Heroes from the 2015 FreeFrom Skincare Awards - September 2015
FreeFrom Heroes from the 2015 FreeFrom Skincare Awards - August 2015
Seaweed – When skin needs a kelping hand... Hazel Davis road tests some intriguing seaweed-enhanced skincare.
Life changing products from the 2014 FreeFrom Skincare Awards.
Apicare Manuka Honey Cream, and a case study of its amazing healing powers.
Bee and Goat Skincare from the 2014 FreeFrom Skincare Awards.
Facial Wipes. Stella James reviews five of the finest on the market.
Who's a Pretty Boy, Then? Kelly Rose Bradford doesn't need to order her ten-year-old son into the bathroom. The problem, with all these natural skincare goodies to try, is getting him back out again …
Ayurveda Pura. Hazel Davis puts three products for normal / sensitive skin by Ayurveda Pura – a brand inspired by the ancient holistic Indian health system - through their paces.
It's Another Clay Day: Hair and Body Products. Having tested Facial Mud Masks for us a few months ago, Hazel Davis now turns her attention to other types of mud- and clay-based products for various parts of the body...
That's the clay to do it: Facial Mud Masks. Hazel Davis slathers her T Zone and her cheeks with some intriguing clay- and mud-based facial masks - and masques!
Problem Skin's Star Performers. A round-up of the seven shortlisted products in the 2013 FreeFrom skincare Awards problem skin category – with a selection of our Beauty Bible testers' comments.
Graham's Natural Alternatives. Four of our regular testers put this new Australian eczema and psoriasis care range through its paces.
Argan oil for the hair. Kelly Rose Bradford concludes her three-part review of argan-based natural skincare by looking at a small selection of haircare products.
Doggy Wash and Go... It's not only humans who can benefit from some natural skincare! Kelly Rose Bradford – with the help of guinea pig Matilda – puts a couple of free from canine grooming products to the test.
Argan OIl for the body. Kelly Rose Bradford's three-part argan experiment has moved on to her body – with some interesting results…
Argan Oil for the face. In the first part of her three-part argan special, our tester Kelly Rose Bradford puts a quintet of facial skincare products through their paces.
Handcare Products. We had such an interesting selection of hand creams entered into the FreeFrom Skincare Awards 2013, that we thought we'd do a round-up of the top five performers – with a selection of our testers' comments.
Pregnancy: Breast and nipple care products. In Hazel Davis' final review in her three-part 'free from' pregnancy skincare special, it's time for breasts and nipples …
Pregnancy skincare: all over products. This month in the second instalment of her three-parter on natural and 'free from' pregnancy skincare, Hazel Davis is lookikng at products for other parts of the body (minus nipples and boobs – for which see above!).
PURE Papaya Ointment is a natural, petrochemical-free, multi-purpose ointment which is said to soothe, moisturise and protect dry, cracked or irritated skin whilst promoting skin elasticity – safe to use on sensitive areas including dry or sunburned lips.
Mum's Secret cream helps 'soothe, support, nurture' for 'bump, baby, beyond' – a family, multi-purpose cream which can help with dryness, suppleness, elasticity and general moisturising care during pregnancy, for baby and for sensitive or eczematous skins of all age.
Pregnancy Skincare: Products for Bumps and Bellies… The first part of Hazel Davis' three-part Pregnancy Special review of natural pregnancy skincare.
Our testers try out Themba, a cream formulated from the fruit of the kigelia africana tree, used traditionally in Africa for dry, damaged and problem skin, including eczema, psoriasis, cold sores, verrucas, burns, bites – and acne.
All About Aloe. Kelly Rose Bradford goes on a strictly aloe vera-based beauty regime for a month to thoroughly test out all the best products on the market.
Described as an 'Instant Serenity Treatment' for extremely dry and irritated skin, Selexir is a relatively new topical skin cream hailing from Switzerland, and co-created by Elena Herdieckerhoff, a former sufferer of, as she describes it, 'extreme dry, red and flaky skin'.
Natural Wisdom. Two new, first-time testers go to work with the Natural Wisdom Rose and Pomegranate Cleanser, Toner and Moisturiser – and this is what they had to say about the trio.
Our reviewers try out KZ or Kuswera Zuro: a soft moisturiser made from African potato tuber which is believed to be good for inflamed, sun damaged or thickened skin – and rosacea.
We try out a few products from the Alison Claire 'Remarkable' Range – recommended to us initally by one of our forum contributors.
FreeFrom Skincare Awards 2012: Make up, judges' comments.
FreeFrom Skincare Awards 2012: Face care products, judges' comments. Part 1 and Part 2.
FreeFrom Skincare Awards 2012: Hair and body products, judges' comments. Part 1 and Part 2.
Skin Shop's anti-acne Yeast Face Masque: a review.
Intimate care products: Hazel Davis reviews the best in products to maintain intimate hygiene and vaginal health.
Products for scalp psoriasis. Rachel Jones tries out some of the more natural alternatives to help combat her difficult condition.
Products for persistent cradle cap. Yvette Johnson's children have suffered from this frustrating condition, so she and daughter Amber volunteered to put some natural skincare products on trial.
Raw Skinfood Mab Fabulous: two of our testers try out the range.
NATorigin lipsticks. Three of our regulars give these new lippies a whirl.
Witch Skincare and Anti-Blemish Cosmetics.
Queen of Aleppo. Three of our testers put these olive and laurel soaps to the test.
Babycare products. An in-depth review of the products on the market by Hazel Davis (and baby Clementine).
NATorigin Cleansing Milk, Cleansing Water and Regenerating Lifting Serum: our reviewers put these products through their paces.
Tisserand Awakening shower & bath wash, Aromatherapy Replenishing Body Lotion Wild Rose & Lemon Leaf and Purifying Deodorant: a review.
GreenPeople's Organic Base No Scent. Our tester Gary puts these fragrance-free marvels through their paces.
Alva Rhassoul Mineral Wash Cream / Alva Rhassoul Active Cream: a review.
Vitamin C shower filters dechlorinate your water naturally.
The NATorigin range of 'extreme tolerance' and hypoallergenic skincare products: our testers try them out for a month.
Bathe-Away organic oatmeal bath bags. Oat-filled bags containing parsley, chamomile and dried goats milk to relieve affected skin.
Return to FreeFrom Personal and Skincare Home