Tried and Tested Skincare Products
NATorigin lipsticks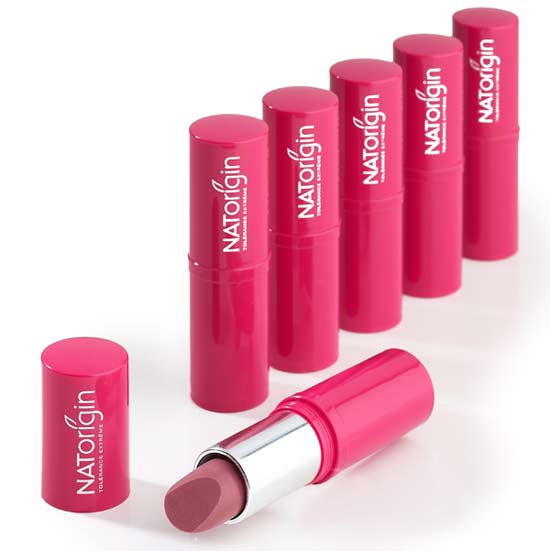 NATorigin's range of half a dozen certified organic, hypoallergenic and 100% natural lipsticks are formulated with orchid extract to give a soft and smooth texture, and are suited to women with sensitive lips or allergies. They are also rich in organic waxes (carnauba, candelilla and beeswax) and shea butter and oils (sweet almond, jojoba seed, sunflower seed, marula seed, castor seed) to help moisturise and protect the lips, and they come in six colours – fig, lychee, copper rose, coral, gold and papaya.
Three of our regular testers and NATorigin afficionadas each put one of the lipsticks to the test. This is what they had to say.
Thelma tested the Fig. She said:
"In the tube the lipstick looked much darker than any colour I would usually wear, so I was expecting a dense pigment on my lips, and perhaps a thick, custardy texture. Not so – presumably because of the shea butter content and seed oil it slid on like a gloss, and gave a soft sheen of colour rather than a matte, thick finish. The fig shade suited my colouring (pale skin, dark hair and eyes) really well, and was perfect for day and night wear – shiny and giving a hint of colour rather than an over-made-up look. It left my lips wonderfully lubricated for hours, and they remained soft and silky when the product eventually wore off (which was after several hours' wear, drinking and kissing) and even on days where I was re-applying more regularly, it did not dry my lips out at all, as some lipsticks can. I was surprised by its longevity given the glossy texture and feel of the product. I would definitely repurchase this. I've worn it every day since I got it and it is my new favourite."
Hazel tested the Coral. She said:
"I am the sort of person who has taken 35 years to find a good lipstick and who buys three spares on the rare occasion I find one I love, so trying a new one was always going to be a little difficult for me as I'm so very particular. That said, I like the colour and I like how it feels when it's on – it's nice and it's creamy and it's non-drying. I love the fact that it's all-natural, of course. Sadly, for me, it smells a little sweet, and I've found it doesn't last as long as the trusty chemical-laden favourite I'm currently using. I probably wouldn't buy this one again, but I love lots of NATorigin's other cosmetics very much."
Stefanie tested the Copper Rose. She said:
"The lipstick itself is really smooth and soft. It is very moisturising and I found it excellent even in this really cold weather and it keeps lips protected. (Usually in this kind of weather I would have to use a neutral or coloured lip salve instead of lipstick.) It isn't cheap but it is long-lasting so you don't need to reapply too often. I think Copper Rose is an ideal colour for everyday use as it isn't really 'glossy', but maybe a different colour would be. In any case, I used it with a clear lip gloss over the top for a more glamorous evening look! The packaging is very simple, but I think that is quite in keeping with the general, natural and 'fuss-free' image of NATorigins products, which I like. I did love the fact that it was bright pink as it makes it really easy to spot in a full make-up bag or in a handbag, which always seem to swallow up everything!"
All lipsticks cost £16.25 and are free from parabens, phthalate, mineral oil, formol, lanolin, silicone, lead, chrome and gluten.
For further information click here.
NATorigin are also proud sponsors in our inaugural FreeFrom Skincare Awards. To learn more, click here.
Back to personal and skin care home