Tried and Tested Skincare Products
Pregnancy Second Time Around:
Breast and Nipple Care Products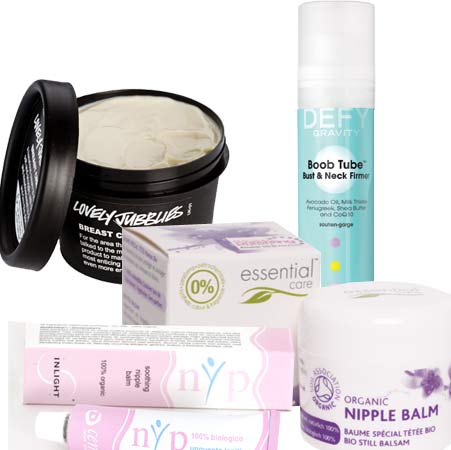 Last month, our tireless tester Hazel Davis put 'all-over' body products to the test, and this month, in the final review in her three-part 'free from' pregnancy skincare special, it's time for breasts and nipples …
So. I had a baby. She came out and everything. I winced a bit. Of course, once I had dispensed of the medical staff, my thoughts immediately turned to the pressing matter of looking after my boobs. As this was my second child the shocking initial agony of breastfeeding didn't take me by surprise as it did last time (imagine an angry man with pliers setting about your nipples several times a day) and I was fully prepared.
In my arsenal was Lush's Lovely Jubblies Breast Cream (£16.50, 100g). I am a big fan of Lush products anyway so I was already positively predisposed to this. Featuring almond oil, cocoa butter, jojoba oil, evening primrose oil, avocado oil and beeswax, the cream is soft and delicious (use it as a face cream? Of course I did) and smells (courtesy of orange blossom honey, fresh rose infusion, lemongrass oil, ylang ylang and jasmine absolute) divine, like most Lush stuff. As I am still breastfeeding, I have to say I have been loath to use it around the pertinent areas just for the sake of my poor baby who hasn't expressed a preference for Lush products just yet and because the smell is quite intense, but as a general boob cream it's marvellous. And looks good and suitably expensive on the shelf.
For a product that really does the job while I am on the job, I have completely fallen in love with Katharine Botanicals Nipple Cream (£7.97). Though the packaging is uninspiring (plain white with a pink label), perhaps it's indicative of a product which needs no dressing up. The smell is inoffensive (it contains calendula) and reassuringly bland and it states on the packaging that there's no need to wash off in between breastfeeds (it might seem a small thing but that reassurance makes a big difference) as it contains no parabens or other nasties. And it's true, my baby was completely unfazed. The cream itself is easy to apply and feels ungreasy and my skin (and nipples) felt immediately and perpetually moisturised. I love this cream so much that I have used it as a lip balm (very effective) and occasionally mixed in with patchouli to make my own smelly hand cream (this possibly marks me out as a mad witch but works a treat). I love it. It's simple, basic and effective.
I waver between thinking the packaging of the Inlight Organic Nyp Balm (£12, 28g) is too redolent of childhood cuts-and-abrasions cream (it's in a Germoline-like tube) and therefore offputting, and – when you feel like crying because your boobs have been churned through a mangle – quite reassuring. Either way, it's what's inside that counts. The smell of the balm is lovely (it contains all sorts of good things but the lavender is strongest). However, that did make me want to clean my breast before feeding just in case it distracted the baby. The instructions actually tell you to but also state that the balm isn't in any way harmful but to do it as a matter of hygiene. Although the choice is clearly mine and good hygiene is important, the fact that it says this puts me off a bit because, as a busy breastfeeding and working mother I don't really want to have to implement a boob-washing routine into my day. Anyway the cream itself is quite greasy and seems to linger (unlike the Katharine Botanicals one) but that's not to say it doesn't do the job. It's nice and cooling and skin feels soothed afterwards. Also works as a great handcream.
The Essential Care Organic Nipple Balm (£5.50/£12, 20g/50g) is, again, quite greasy but very soothing. It's food-grade so safe for breastfeeding (having this stated on the box is always nice) and contains shea butter and calendula. The fact that Essential Care make all their products in small fresh batches is very nice and reassuring too, so it's a product I would feel good about using, even if it's not my favourite.
Meanwhile, I'd be quite happy taking the Pure Nuff Stuff Soothe 'Em Nipple Balm (£5.50, 40g) camping in the outback, its metal packaging and 'summer' style design reminding me a little bit of my gap year. But what's inside is good stuff. The balm is substantial and feels like it gives good cover and the smell isn't overly strong so not too worrying for the baby. Another one with dual use: this also works really well as a lip balm.
For after the feeding and to make myself feel like less of a dairy cow, Mama Mio Boob Tube (£29.50, 100ml) is just divine. Like all their products it smells gorgeous and fresh (I'm not entirely sure what that signature smell is but it contains avocado oil, fenugreek and milk thistle). There is a chance that it's all in my mind and I am clinging on to anything in the hope that I don't have dangling udders, but my décolletage certainly felt springier after application and I would have gladly welcomed non-infant visitors there (whether they want to is another matter entirely). It's paraben-free so probably safe for breastfeeding but, like some of the others, I would avoid using it on the nipple area so as not to upset or confuse the picky, suckling child. As soon as she's off, however, bring it on. As with most of my other beauty-cream essentials, one of the additional requirements is that I can use it as a face/hand cream and this I definitely can. It's firming, smells amazing and goes on nicely. As for its claim to make my boobs gravity-defying, well, when I can stop having children long enough to test it out I'll let you know…
More tried and tested freefrom personal and skin care products
Back to personal and skin care home