Tried and Tested Skincare Products
Brush Strokes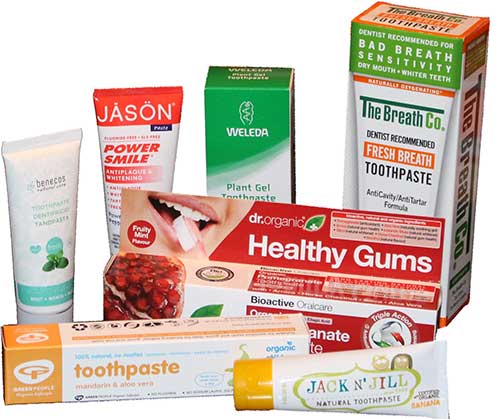 We all know the importance of oral care, but high street toothpastes can contain ingredients some consumers look to avoid. So if you're looking for some natural and free from paste for your toothbrush, the Skins Matter team have tested some for you.
AloeDent
We tried their Aloe Vera Toothpaste with Miswak, CoQ10 & Tea Tree Oil. Miswak is a teeth cleaning twig from the salvadora persica tree, and we learned (thank you, Wikipedia) that miswak strengthens gums, prevents tooth decay and eliminates toothaches. This paste has a faintly unfamiliar, bitter taste, but it is not off-putting at all, just needs time to get used to. It pays to persist with this, as our tester said that after a month, her teeth and gums felt "lovely". She added: "I got used to the slightly bitter taste very quickly, and my teeth/gum combo seem stronger and remain cleaner throughout the day." We also tried their Sensitive toothpaste. Our tester said: "It's great. Minty, fresh, foamy and makes your teeth feel clean afterwards. Hard to squeeze out and does look a little watery (you know when some jelly is solidified and some is still syrupy...). But a dollop on an electric toothbrush is enough. Love that it's all natural but it does make me think "are my teeth missing something?". I would buy this one regularly though as it feels like how I think toothpaste should." Also available are Triple Action and Whitening formulas.
Benecos
Their mint toothpaste boasts all natural ingredients, including some organic, and is certified vegan. It's really good. It's gluten free. Although it is free from SLS it does contain sodium coco sulphate, so there is light foaming. Our tester said: "Texture is excellent – perhaps the closest texture to an 'ordinary' or high-street toothpaste, making it perhaps the best 'entry level' alternative toothpaste, for those nervous of trying something new – and the flavour not too strong at all." Free from parabens, sls, synthetic fragrances, phthalate. Benecos toothpaste is available online at www.allnaturalme.co.uk and other health stores throughout the UK.
The Breath Co. Fresh Breath Toothpaste
This is a greyish opaque gel, which looks reassuring and really is a pleasure to use. Good that it's mildly minty – so that it doesn't overpower your tastebuds at all, and would suit someone who really doesn't like toothpaste flavours other than mint, but hates that lingering strong flavour of peppermint that so many standard toothpastes leave you with. Our tester thought the only problem with it is a slight aftertaste of chalk, albeit which is short-lived. Contains fluoride, but no SLS nor artificial colourings, alcohol, saccharin or benzalkonium chloride. Vegan, kosher, and gluten free.
Curaprox
The black toothbrush supplied with Curaprox's carbonised 'Black is White' toothpaste is needed because it really does make a black mess of any other toothbrush – and your sink, unfortunately. It takes quite some getting used to to brush with a black paste, and it does require a lot of rinsing. If you can get past that – and we struggled – then the flavour is nice, and there may well be a good whitening effect, thanks to the chalk and carbon – but there's the brightening effect of titanium in here too. Generous 90ml tube, but you may get fed up of the bathroom cleaning demands. Contains alcohol, artificial sweeteners, fluoride, titanium and colourings. Free from SLS and bleaching agents / peroxide. Pricey at £19.95. Also available as 'White is Black'.
Dr Organic
Their Organic Pomegranate toothpaste is one of the tastiest pastes we tried – not particularly reminiscent of pomegranate, but mildly and pleasantly fruity and no strong aftertaste. A pea-sized amount is sufficient – so the generous 100ml tube lasts a long, long time – and it's very cleansing and refreshing to the mouth. Ingredients are tiny and very difficult to read, and it's unclear which are organic – and what percentage of the overall formulation is organic too. Good free from labelling – parabens, SLS, artificial colours, fragrances and 'harsh' preservatives (by which we presume they mean triclosan, for example). A good 'introductory' choice to natural toothpastes. Lots of other options in the extensive Dr Organic range – including Organic Tea Tree Toothpaste – and all are available from Holland & Barrett.
Green People
Their Fennel and Propolis toothpaste is very faithful to the flavour described – although we'd have liked a little more emphasis on the fennel, although that might make it too sweet, and the balance of sweetness is actually just right. It's another grey paste, which you need quite a bit of on your brush, which means you can use up the smallish tube of 50ml quite quickly. It's a lovely aftertaste and using it feels good – our main tester said. "Just wish tube was bigger!" Green People do other very good toothpastes – Organic Children Spearmint & Aloe Vera, Organic Children Mandarin & Aloe Vera – our young reviewer said it had a bit of a 'funny flavour', so this one might take some getting used to! – Citrus & Aloe Vera, Mint and Minty Cool. They retail at £3.80. Free from SLS, fluoride, artificial sweeteners and colourants, alcohol, synthetic flavours and triclosan.
Jack n' Jill
Natural calendula toothpastes for children. Of their Banana toothpaste, our young testers said: "Very bananary, and just like a normal toothpaste (although it is a clear gel which is unusual) – nice if you like banana but it might leave your breath smelling of it. I really like this!" Of their Blackcurrant toothpaste our two testers, who both adored it, said: "This is my favourite. I could eat like ice cream. Please please please please please buy some more" and "It's so yummy!" And the Flavour free comments were as follows: "It tastes like honey! It's wonderful!" and "Why would anyone want flavour free toothpaste? It still tastes of something. It's good though!" Also available are Blueberry, Strawberry and Raspberry. The Flavour-free is available from August. They are free from fluoride, SLS and gluten.
JASON
We tested their Powersmile Whitening Powerful in peppermint flavour. Our tester described it as having a "nice and slightly coarser grain than 'normal' toothpastes, with a good, strong flavour". It's not sweet and it is very powerful – so good for those with a taste for a strongly cleansed mouthfeel! We also tried their Sea Fresh Strengthening Toothpaste, in spearmint flavour. This was also very strong, and not as spearminty as we would have liked – it's pretty pepperminty, really – but it's a good cleanser and whitener, and the consistency is coarser and drier than most other natural toothpastes, so would be good, again, for someone who likes a strong taste, but is less keen on 'wet' pastes. There are also varieties – including Health Mouth Tartar Control toothpastes, Nutrismile Enamel Defense toothpaste, and Soothing Berry & Mint toothpaste – in the extensive range, which also includes a number of natural mouthwashes. Free from SLS/SLES, Preservatives, Propylene Glycol and gluten. Kosher too!
Truthpaste
The only product to avoid plastic – which means it's in more environmentally friendly glass. Which means, as you can't squeeze it, you have to decide how to scoop the product out – our tester settled on a wood spatula – although there was no suggestion on the label on how much to use. It has a putty-like consistency. It's free from fluoride, glycerin, SLS, colouring, triclosan and other artificials, foaming or whitening agents, and contains aloe, chalk, clay, xylitol as sweeteners, plus some potent oils such as mint, myrrh, clove, neem and wintergreen. You can't escape the fact that it smells like an antiseptic ointment and is something our tester felt reluctant to put into the mouth. "At first there's no taste, but then the power of the oils comes through, and is extremely overpowering. It was unusably potent and had to spit out and rebrush with an alternative – in fact, I felt quite unwell." Really not for our tester at all – but some who like clay pastes and strong oils may well like it.
Urtekram
Their Aloe Vera paste was a real surprise. A very gentle and subtle toothpaste made with chalk and glycerin and flavoured with aloe vera and mandarin, which cleans well and leaves a lovely fresh taste in the mouth, which doesn't spoil enjoyment of food soon after. But there's a problem: it's a very wet paste, relative to the others and normal toothpastes, so you do have to be careful when dispensing as it spills over the tube sides. We'd like to say it's worth it, but it is very frustrating. Store it right side up, and the paste spills every time you unscrew the lid; store it upside down, and once you've used a fair bit, it's difficult to get out. Fluoride free and very straightforward and short ingredients list means it is clearly suitable for many with allergies. A good find, hailing from Denmark, and available in good independent stores – but a little thickener is needed as it makes far too much of a mess.
Weleda
Their Plant Gel is a dusky pink gooey gel, which you need quite a lot of on your brush – a pea-sized amount isn't enough. It takes some getting used to, as does the colour. The flavour is unusual – it has a fruity but refreshing edge, which is quite difficult to describe. But it's a grower and does a good job of cleaning the teeth. There are three others in the Weleda oral care range – mint-free Calendula toothpaste, Ratanhia toothpaste, and salt toothpaste – all retailing at £4.50. The are free from fluoride, food allergens, artificial sweeteners / fragrances / flavourings / colourants / preservatives, palm oil, foam boosters / SLS, and tricolosan. They are vegan, but do contain alcohol. We liked it.
More tried and tested freefrom personal and skin care products
Back to personal and skin care home