They came … from Ireland; they saw … the Love Natural Love You Show, Janey Lee Grace, their fellow shortlisted candidates, and a lot more; they conquered …. the FreeFrom Skincare Awards!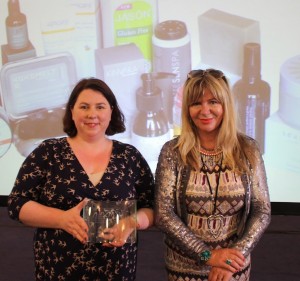 Many congratulations to the team from Kinvara Skincare – Fiona Treacy is pictured here, receiving her trophy from Janey – for triumphing in the fifth annual FreeFrom Skincare Awards. Their Absolute Cleansing Oil was a beautiful product, with terrific labelling and excellent ingredients, that all judges were delighted for it to take the top gong last Friday.
Special mention must also go to double big-winners Sukin – a runner-up in Best Brand in 2015, and winners this year in 2016 – who also took home the FreeFrom Achievement category, for their Supergreens Nourishing Chia Seed Oil+.
This year, we'd been 'upgraded' to the rather lovely Pillar Room at Olympia to hold the presentation – and extend thanks to our annual hosts, the great team behind the Love Natural Love You Show, the Allergy and FreeFrom Show and the V Show – for allowing us to celebrate our fifth anniversary in greater style. Tom, Bruce, Austin, Carmen, Helen, Robbyn and all the gang – you're great!
The standard was high – which is something I'm well aware we say every year, but it's true – and I think it's getting stronger. The main thing we noticed with regard to products was an increased awareness and acknowledgement of food allergies on skincare products – something we have been asking to see for some years.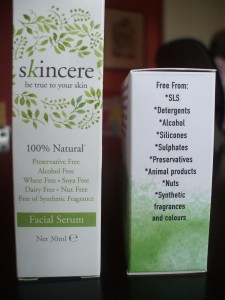 'Contains nuts' or 'free from nuts' are both very helpful messages to those with food allergies, who often have to carefully negotiate complicated (and Latin) ingredients on cosmetics, in order to check they're not going to incite a skin-based reaction due to their food allergy. Skincere and Naked Skincare Co – just two brands mentioning food allergens on their products are pictured left, while another – double bronze winners Myroo – even now make a strong virtue of being free from the 14 key food allergens, and make it clear on their labelling too. Although the 'gluten free' message is more contentious (there's no good research confirming those with coeliac disease need to avoid gluten in skincare) we still think, on balance, that it can be a useful confirmation of safety to those who are less au fait with the complexities of gluten intolerances, and to those who want to rid their homes of gluten, no matter what. And so, yes, JASON's GF Shampoo really was a deserving winner this year with the testers and judges, even though we had expressed some uncertainty about it previously ourselves.
The 'Free From' Labelling Problem … 
What we were less keen on were certain 'free from' messages. We're huge fans of 'free from' labels – obviously, given our name – but we're not keen on its misuse, which we did see a little of, unfortunately, and did have to penalise some brands for …
'Free from chemicals'? Everything is a chemical. Natural skincare is filled with exceptional botanical chemicals. Please, skincare manufacturers, don't make this claim. Here's one of our judges, Lorraine, tackling this on her blog.
'Free from toxins'? All skincare, by law, has to be free of toxic levels of ingredients. All ingredients are toxic at certain doses (even water), and preservatives, by their nature, have to be toxic to bacteria, viruses, fungi and moulds in order to preserve your cosmetics and keep them safe for you. Please, again, let's not create alarm by talking of 'toxins' in skincare. It could be inferred from 'free from toxins' that brands are implying other, orthodox or mainstream brands contain toxins – and that implication is, we think, unreasonable.
'Free from nasties'? Well, what's a nasty? What is nasty to you, may not be nasty to me – and vice versa. Different people have different needs and views, and this form of free from labelling risks confusing people, or lulling them into a potentially false sense of safety.
'Free from chemical nasties'? Yes, we saw this one too …. Please no, people!

So what do we like in free from messaging? Specific, named ingredients, please – or groups of ingredients – those which turn up on contact dermatitis testing panels or which are known to trigger allergies, or those which people wish to avoid for ethical or environmental reasons, or reasons of personal preference. Here's a straightforward and effective one from Kinvara, pictured right. 'No' is just fine as a 'free from' alternative!
2017 …
No, we don't want to be thinking ahead to next year too much just yet, but we will, in due course, review our terms and conditions and our criteria, as legislation and research moves forward and changes, and critically assessing the ingredients we 'ban' from the awards must always take place. Although our excluded ingredients are not meant to represent a collection of 'baddies' – rather a minimum expectation for our potential entrants – we do think it's time to ask honestly whether allergen-free artificial fragrance, for example, should be permitted, and whether we should be putting tighter restrictions on fragrance allergen content.
And as for categories? We have been toying with splitting Face Care (Leave On) to two or more categories – day creams, night creams, lip balms and eye creams? We need your input, brands! Let us know what you think – or whether we should have another category that we haven't yet thought of.
And finally …
A few thank yous: to Nicola, who came on board this year to lend various helping hands to us with packing, accounts, advice and lots more; to our team of a dozen judges, who donate a day of their time to slap on any number of moisturisers and unguents at our head office every May, and no doubt go home smelling like a walking perfume factory; to our sponsors – NATorigin, Benecos and Organii – for the financial support we really need; to Janey, to Formula Botanica, to the LNLY Show, and the Ultimate Natural Beauty Bible, for being great partners to work with.
Particular thanks to our Beauty Bible Testers, all 130 of them, for some sterling work this year. Lots of them were very good, and have been testing for us faithfully for several years, but I'll reserve a particular shout of gratitude to three of them – Sally A, Tracy B-L, Kerry B – for truly magnificent work which really stood out. The care with which these testers, and indeed so many others, put your products through their paces, with such precision, means a lot to us – and is a huge boost to the integrity of our Awards.
For the results of the 2016 Awards, click here.
For photographs of the 2016 Ceremony, click here.
For press coverage of the 2016 Awards, click here.