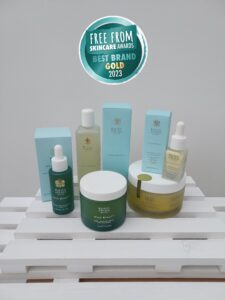 Beauty writer Sara Niven speaks to Rhug Wild Beauty's Catherine Jones about the brand's success at the Free From Skincare Awards 2023, defending their Best Free From Brand title from 2022, and picking up a host of other medals …. 
Testers and judges at this year's Free From Skincare Awards have again gone wild about entries from Rhug Wild Beauty, awarding them two gold medals and three silvers in the main product categories.
The icing on the cake to this string of successes was the Welsh brand's victory in the Best Brand category for the second year running.
Two new additions to their collection took top awards this year. The Deep Cleansing Balm with Wild Berries (described as "absolutely heavenly" by one tester) took gold in the Face Care (Rinse Off) category, while their new Nourishing Eye Cream with Elderflower in the Eye Care category was similarly praised for being effective and enjoyable to use.
"To win gold with our latest products on top of the amazing accolade of being named Best Brand is particularly wonderful," says Rhug's Catherine Jones.
"We've been taking part in the Free From Awards since Rhug's inception and plan to continue to do so. We see how much effort and organisation goes into the awards and feel really supported as a relatively small niche brand. There's a lot of coverage generated from entering, with a lovely community to engage with and a unique buzz in terms of the way the awards are announced. The other factor that adds real value from our perspective is the in-depth feedback provided from testers and judges."
Despite still being a relatively new company, launching at the end of 2019, Rhug (pronounced rheeg) has rapidly established itself as a luxury beauty brand. It is stocked in high-end stores, including Fortnum & Mason, and many top make-up artists use the products on clients. Leading British actresses, including Carey Mulligan and Naomi Watts, are said to be fans, as is TV presenter Julia Bradbury. There are also rumours that certain royals are very familiar with the range …
It isn't huge: a collection of ten facial skincare products and five for the body, plus the addition of a new hand and nail cream set to launch at the end of this July. Catherine explains that it is a case of quality over quantity when it comes to new launches, but consumer feedback and demand meant they wanted to include a rich hand cream in their collection. The new addition has a citrusy theme of organic orange peel oil and lemon balm and will come in full and handbag sizes.
Flora for foraging … 
All the product formulations are based on wild plants, flowers and fruit, hand-picked and foraged from the Rhug Estate, in North Wales. Even the water they contain is spring water from the estate which is owned by Lord Newborough, an organic farming pioneer and sustainability advocate.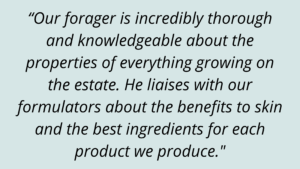 The solar and wind turbine-powered estate has been supplying organically grown, reared and foraged produce to more than 20 Michelin-starred restaurants for many years. During a lightbulb moment Lord Newborough realised the estate's same organic credentials could be used for high-quality skincare.
Rhug Wild Beauty now sits alongside his portfolio of farming, green energy, retail and wholesale businesses.
Prices range from £30 for the body care items to £130 for the Active Treatment Serum with Hyaluronic Acid in the skincare range — the pricing taking into account factors such as the hand-foraged, hand-made nature of the products. Where other businesses may only have buyers sourcing their ingredients, Rhug has a full-time forager working in collaboration with the formulators.
"Our forager is incredibly thorough and knowledgeable about the properties of everything growing on the estate," Catherine explains. "He liaises with our formulators about the benefits to skin and the best ingredients for each product we produce. Although the formulations may contain many ingredients, we tend to highlight two, the one that scents the product and the one we view as the most active ingredient."
Sustainability is key and Catherine explains that great care is taken whilst foraging to avoid depleting nature's reserves.  Some ingredients, like rose otto and the blue tansy, are sourced from suitable organic suppliers but as much as possible comes directly from the estate. Of these ingredients, the vast majority of species are wild foraged with only around 20% grown on Rhug's Organic Farm.
Golden Products
The Gold-winning Deep Cleansing Balm contains their signature Rhug Wild Berry Complex with blackberry, bilberry, and blackthorn from the estate, along with rose otto, rosemary and geranium and safflower oil. The Nourishing Eye Cream with Elderflower (below right) contains a host of organic oils such as camellia and rosehip, along with cucumber extract to reduce puffiness.
Rhug's products aren't fragrance-free, but their all-natural scents were appreciated by testers. However, the range also contains ingredients known for soothing sensitive skin, such as calendula and oats.
Foraged yarrow features as a natural anti-inflammatory herb, often used to soothe itchy, dry skin, along with meadowsweet, which contains exfoliating salicylic acid, and antioxidant-rich dandelion.
"The products are suitable for all skin types; however, there is always a balance to be struck between including high-performance ingredients and avoiding those likely to cause some skin irritation," adds Catherine. "We advise customers with very sensitive skin to contact us to discuss their needs, or to try the sample sachets before placing an order."
The majority of products are vegan, although a few contain the estate's own honey or beeswax as humectants. All are Halal-certified and have the Butterfly Mark certification from Positive Luxury.
Catherine says: "We aim to maintain the highest standards of organic, natural and sustainable ideals. However, in a retail space overwhelmed with greenwashing, we have aligned ourselves with specific certifications to demonstrate our commitment and honesty."
With such diligence, it's no wonder the Rhug success story continues… who knows what awaits them at next year's Free From Skincare Awards?
To view all the products in the Rhug Wild Beauty range, click here.
To view the full results of the Free From Skincare Awards 2023, including Rhug's winning products and some tester comments, click here.
The Free From Skincare Awards 2024 will open in the second week of January.