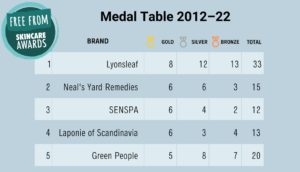 Given that the Free From Skincare Awards launched in 2012 — London Olympic Year — we've always tried to maintain a subtle attachment to that original optimistic spirit, primarily through the ongoing awarding of Gold, Silver and Bronze 'medals'.
This is despite the fact that the Olympics come around only every four years and we faithfully come around annually! 
For a few years, we've featured a 'Medal Table' on our Awards website — listing brands instead of countries, of course, although that's an additional option we might consider soon! — and recently it was beginning to look a little unwieldy, with literally hundreds of brands listed, many of which sadly no longer in business. 
So this year we decided to properly update both its content and its design to clearly show which skincare brands had performed the very best over the previous eleven years of FFSAs.
For a snippet of the top five, see the image above right, and for the full list of the top 30 or so Brands, you can view our new dedicated Medal Table page on our Awards site by clicking here. 
With just one week left to submit entry forms to the Free From Skincare Awards 2023, and with a lot of big names yet to throw their hats into the ring, it could be an interesting year, with some jostling and elbowing of positions towards the top by the time we come to updating the table next year following the results in June or July! 
Last year, Lyonsleaf overtook long-standing leaders Neal's Yard Remedies, and some brands leapt from lower positions or even from literally nowhere to elevated spots. For instance, overall champions SenSpa long-jumped their way into Third spot from well outside the top 15, and Estonian brand LUMI pole-vaulted into the top 25 on their debut, with only that one year of participation under their belt! They're back this year, so they could be leaping forward again in 2023 … 
For brands still pondering participation for 2023, click How to Enter; and for those familiar with our rules, T&Cs and categories, you can click through to our Online Entry Forms. 
Might we see you on the Medal Table soon? ….