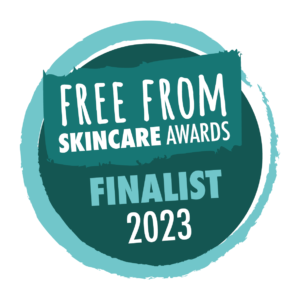 We're thrilled to unveil the full list of Finalists in the Free From Skincare Awards 2023. Click here to see them in their full glory!
Leading the way with eight products in the running are Rhug Wild Beauty, who took the Best Free From Brand crown in 2022, and will certainly be among the contenders to defend that title in 2023.
Close behind Rhug and also in the running for Best Brand are Icelandic debutantes AK Pure Skin, with six products in the final, while BeeInspired, Olifani and Lyonsleaf, both long-standing and regular participants and medal-winners have four each.
And close behind them is a clutch of brands with three finalists, among them many first-time participants, such as Esker Fields, OliPhenolia, The Eco Stall, Lykkegaard Care, Nude Goose, The Wild Nettle Co, Tiger Lillies Skin Food and Amphora Aromatics.
The largest category is our ever-popular — and ever-competitive — Face Care (Leave On) category, which includes products by a wide selection of brands — be they larger and more established brands such as Weleda and AEOS, and smaller or newer brands such as Natural Little Bee and Just Be Natural.
Looking to defend their title in another of our sizeable categories, Face Oils, is Coraline Skincare's You Must Be Sisters, which won Gold in 2022. In a similar position is Blumáin Skincare's Serenity Body Oil in the Body Oil category, also looking for a unique consecutive double Gold!
With around 80 entries in the special Free From Achievement category, no list of Finalists has been released, but all entries submitted into this additional category which have reached the Final in one of the main categories (1–16) are automatically in the running for an Award in this special category, which is dedicated to products which both exclude many of the ingredients that 'free from' consumers would like to avoid (such as most fragrances, food allergens, and other ingredients which can cause reactions or sensitivities), but which perform well too.
Our newest category, Digital Presence, features almost 20 Finalists. Brands including Balmonds, LUMI, SenSpa, Butter Be Kind and Raven Botanicals will be fighting it out for the first ever medals awarded.
In its second year, our Labelling category also features almost 20 finalists. Who will succeed 2022 winners Odylique as champions in 2023? In the running are Etide, Juste Nature, Olifani, Oir Soap and Flowery Whiff, among others.
The results will be announced during the morning, afternoon, and evening of Tuesday, 13th June 2023, across our social media channels. More details will be made available soon. We hope all our followers can join us! Follow us on Twitter and on Instagram too.