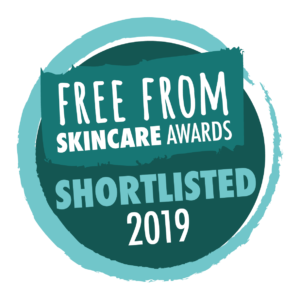 300 entries have been whittled down to the just over 200 highly performing products which make up the complete 2019 Free From Skincare Awards Shortlist.
Whittling down, believe you me, is no easy job, and for that we've primarily got our loyal and supportive team of around 100 product testers to thank.
Each of these experienced dedicated women — and a few men — receive around ten products to test solidly for a period of one month. But merely getting these products to the testers — who are based all over the country — is a challenge …
First, we need to allocate appropriate products to them. Many have particular free from requirements — fragrance allergies, ethical choices — which limits the products they can or wish to test. We have to be careful not to send beeswax or goat's milk products — of which we see dozens each year — to vegans, for example.
Then their own cosmetic routines and circumstances have to be taken into account. We can't send a bath oil to a tester with no bath, or a lipstick to a tester who wears no make-up, or a conditioner to a shaven-headed gentleman, or a dry-skin balm to someone with oily skin, or … you get the picture. Lots of details must be checked before we pack up and send off their parcels of entries. It can take weeks and weeks.
But when the testers receive them, they really knuckle down and put the products through their paces, using them daily when appropriate, but if not then as much as they possibly and sensibly can during the four weeks. Many of them test on willing family members too — the children of our testers are the unheralded heroes of the Awards, as they are seconded into trialling a variety of potions and balms, typically entered into the popular Family Skincare category.
And at the end of their month? Our testers complete questionnaires, score the products, and send their results to us for collation. From their detailed feedback, the Shortlist is drawn up.
The Judging
The panel judging of the shortlisted products took place in mid June.
The Free From Skincare Awards team, plus a group of engaged and enthusiastic judges gathered for five days in Hampstead to eat superb food — catered for by our own Michelle — but most importantly to discuss the provisionally shortlisted products: not only sniffing them and trialling them, but to scrutinise labelling to assess regulatory compliance and allergy awareness, and to ponder innovation, versatility, VFM, packaging, usability and much more besides. Summary comments by the testers were read out, and then judges had the tough on-the-spot task of taking all that input into account and coming to the major decisions — whether each product deserved its place on the final shortlist, and whether each should win a Bronze, Silver or even a Gold in its category.
We have always been proud of our second-to-none transparency at the Free From Skincare Awards, and we would be failing our own standards were we to pretend that judging was not extremely challenging this year.
Free from labelling is deeply contentious and polarises. Some believe 'anything goes' with regard to free from labelling — that it can be freely ostentatious on front of pack, that expressions such as 'free from chemicals' are just fine, and that there should be no restrictions on its use. Others, their polar opposites, typically mainstream cosmetic chemists, believe every 'free from ingredient x' claim is denigrating ingredient x and should never be used. The issue is topical due to the Technical Document on Cosmetic Claims (Annex III) which, although not law, is guidance that has just come into effect on 1st July.
We sit somewhere in the middle, or like to think we do, and are more than happy for legislation to be drawn up to govern free from labelling, but we simply cannot agree with the premise that 'free from x' is automatically denigrating 'x': linguistically, it is merely stating something does not contain something, and repeating and re-repeating the 'denigrating' argument does not make it any more true. In fact, it merely demonstrates its weakness.
We had representatives with various views, all of which we welcomed, but there was some disagreement, as is healthy in any debate. The difficulty inherent in this was in trying to reach some sort of compromise and applying these compromises evenly and fairly across all categories and judging days: it would be unfair to penalise one product for one error — or arguable error — on one day and not do likewise to a product bearing the same error on a different day.
We will reveal more one the final results are announced in late July, but it's fair to say that our previous view on the subject, which we published on this blog earlier this year, remains pretty much unchanged in practice.
Why? Well, because, first and foremost, we are a consumer award. We do what we do primarily for the free from consumer, who is looking for skincare products free from ingredients they need or wish to avoid, for whatever reason they wish to avoid them. They are the people we have in mind. They are the ones for whom 'free from labelling' is really useful — irrespective of how much they are disliked by cosmetic chemists and regulatory fundamentalists, who never seem to consider the free from consumer.
Yes, the awards go to the brands making these products, but in so doing we highlight products which may be suitable for those free from consumers, and reward and encourage the brands who produce cosmetics suitable for them, further helping the consumer.
As long as the Free From Skincare Awards continue to run, that's what they will aim to achieve.
The 2019 results will be announced at the end of July. More then!