A new range of gluten-free skincare has been launched by JASON, and we currently (as of May 2014) have a competition to win the complete set on our SkinsMatter.com site.
We've already covered the issue of gluten in skincare products in an article from a few years ago. In it, I explained that there is little research on gluten in skincare and its impact on those with gluten-related disorders, but that gluten in cosmetics is very probably safe for most — but that certain products (lipstick, hair spray) may carry a slightly more than negligible risk.
One thing we do know, from years working in the 'free from' industry, and speaking to those with coeliac disease, is that many try to avoid gluten in skincare products. For some, with long histories of gluten having made them extremely ill in the years prior to a coeliac diagnosis, it is a 'no brainer'. Many feel that such has been the toxic, detrimental effect of gluten on their lives, they simply don't want it in their homes — be it in the kitchen, or bathroom. This is understandable. The science — or lack of it — doesn't come in to it, when the response is this visceral. Who can really blame them?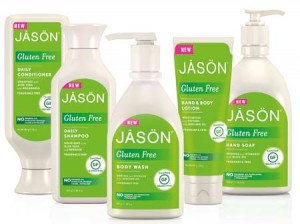 For that reason, I welcome the launch of a dedicated gluten-free line. I hope that it will be the first of many skincare products to either be designed for food sensitive consumers — or at least to denote an awareness of food allergies and intolerances. But that's not to say I don't have some concerns and reservations …
Something I've seen creeping into gluten-free food world is the occasional health promotion of gluten-free manufactured food at those who don't have a sensitivity. While there are plenty of gluten-free foods which have terrific nutritional profiles, their qualities don't depend on their being gluten-free!
Although I obviously support everyone's right to choose what they do and do not put into and on to their bodies, I'm personally less keen on manufacturers who try to swell the potential market for their products by implying that a safe-for-most ingredient could be more universally problematic than presently believed. JASON have not done this, I should make clear, but I'd hate to see 'gluten-free' becoming abused as a badge of virtuousness and purity in skincare as opposed to a simple reassurance for those who feel they need it. It's something I think we should keep an eye on if the sector becomes established and expands.
"If you shouldn't EAT it, you shouldn't put it on your skin"
This is a slogan that JASON is using for the range. Is this perhaps an exaggeration? There are lots of skincare ingredients you shouldn't eat, but that are just fine for the skin …
I also wonder whether the JASON gluten-free claim is 'too loud', with that larger font? It's certainly more prominent than other 'free from' claims they make on labelling. Is that necessary? On one level — you could argue, yes. They certainly need to shout about the existence of the product, and we want them to, in order to raise awareness, and perhaps make other skincare manufacturers think along similar lines.
But on another, those who live gluten-free may not strictly need it to be made so explicit. A more discrete mention of 'gluten' alongside other 'free from' mentions that one typically finds — parabens, SLS, mineral oil — is surely all that's needed, ultimately. Perhaps, if this sector grows, that will happen, and 'gluten' will merely be 'absorbed' into other, more regular 'free from' messaging. That perhaps is the ideal goal.
So overall, I think it's a positive move, and we're glad to see that JASON also specify that the products have tested at under 10 parts per million gluten. We're all for transparency at SkinsMatter!
As far as the wider skincare market goes, as well as gluten, what I'd really like to see added to 'free from' messaging are other ingredients which can cause serious reactions. The preservative MI (methylisothiazolinone) is among those, certainly, but I'm also keen to see peanut, tree nut and dairy free messages on skincare products. Many consumers would find this invaluable.
Will we see change soon? I hope so. It's a common grumble among the egg, nut, or dairy sensitive that gluten gets all the attention with free-from food. I'd hate to see skincare eventually mirror that situation. It's really not hard to tell consumers that you're nut or dairy free. Manufacturers: do it!