One of the best things about running the Free From Skincare Awards is finding out how much it means to manufacturers who not only win an award or a runner-up prize, but also who are shortlisted or even commended.
We issue logos to all such manufacturers to use as they wish, for instance on publicity material and websites, and we're always pleased when they choose to do so. We feel this helps to raise awareness of 'free from' skincare and is a boost to everyone involved – producers and their products, customers with specific 'free from' needs and desires, and of course us too!
But a relatively new phenomenon is encountering our logo on some products themselves … and we're thrilled to now see at least three manufacturers choosing to do so …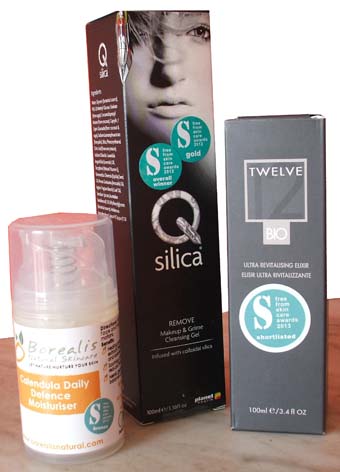 Borealis Organic Skincare's Calendula Daily Defence Cream took home a 'bronze' in the Face Care category at our inaugural awards last year, and the team behind the cream have added their logo to their redesigned and repackaged product, seen on the far left. Their Post Shaving Balm with Eucalyptus and Rosemary is shortlisted in the Grooming Category this year, too.
On the right is Twelve Beauty's Ultra Revitalising Elixir, shortlisted in the Face (On) Category this year. On the samples they sent us, destined for our Beauty Bible testers, we found some lovely prominent logos (we particularly like the white bordering – and may pinch that idea ourselves!).
And standing proudly in the middle, Qsilica's Remove Make-Up and Grime Cleansing Gel, our overall champion last year, and defending its title this year, with a shortlisting in the Face (Off) Category. This one's blessed with two logos, one for its category victory as well as its Overall Winner's logo. And how smart it looks too!
As you may have seen via our Twitter account, the results of the 2013 Awards are now almost all in, and we already have winners and medallists decided in several categories. All will be revealed at the Allergy and FreeFrom Show on 7th June, and it's an exciting time for us as we tot up all the figures and collate all the amazing feedback our Beauty Bible Testers have given the products.
Who knows which products will be 'wearing' some logos this time next year? …