Time for us to take a breather and reflect on last week's judging sessions for the FreeFrom Skincare Awards 2014 – before the Commended list and Shortlist are announced next week, to (we hope) much fanfare! (See some of the products lined up below ready for judging.)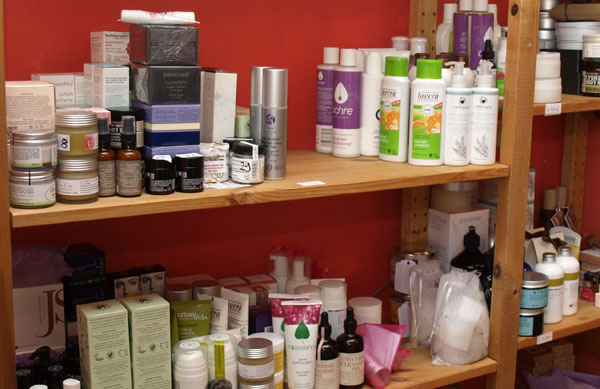 It was satisfying for us this year that all the judges who came to at least one of our judging sessions in 2013 accepted invitations to join us again this year – which we took as a good sign! – and we were joined by two first-timers too: Yanar Alkayat, a widely published health and beauty journalist and blogger – do check out her A Brighter Shade of Green blog – and Victoria Pugh of Lebelle Skincare, who you may remember won a gold award in 2013 for her Detoxifying Body Polish in the Body (Take Off) category.
Judging skincare products may sound like a fun way to pass a day or two, and indeed we hope it is for the judges who volunteer their time – but as much as we all enjoy it, it's hard work too: it demands concentration, focus, and always striving to maintain impartiality and strict fairness throughout … while subjecting your nose to endless varieties of fragrance, and your hands, arms, neck, face, feet and even knees to a string of unguents, balms, potions, lotions and creams … and perhaps giving a product a more rigorous testing over a period of days … as well as bearing in mind each of the attributes we were taking into account with respect to the products, including performance, value for money, effectiveness, innovation, labelling, functionality, purity of ingredients, presentation … and of course free-from-ness!
We also hope taking part in our sessions offered our judges an opportunity to learn a lot from one another, and examine at close quarters the kinds of products that are making their way in the world of free from skincare. It's important to us that we have people from all walks of skincare life on the panels, as each brings something fresh and different to the table, and gives us the widest possible perspective on the entries, which we believe will result in the fairest decisions. So:
* formulators and producers on the team are key – they've 'been there, and done that', so understand the process and the hurdles;
* reviewers, bloggers and beauty writers are equally important – they've seen and tested thousands of products, and often know instinctively which may perform well and which may not work so successfully;
* those with sensitive skin are vital as well: they are used to scouring shelves for products that may suit them, to query ingredients which may irritate them, and usually have a lot to say on the products put forward;
* and then there are those who come from a more food-orientated or allergy background – who are interested in issues such as skin-healthy ingredients and sound labelling practice, and on the transparency of those ingredients – and their derivation.
Between us all, we discuss, we test, we agree, we disagree, we review, we reassess, we argue the merits of castor oil's cleansing abilities and thyme's preservation properties and we eventually reach our decisions, before collapsing with exhaustion at around 7pm each evening and reaching for the wine …. (Here are Ruth, Emma, Sarah and I deep in discussion over the scrubs.)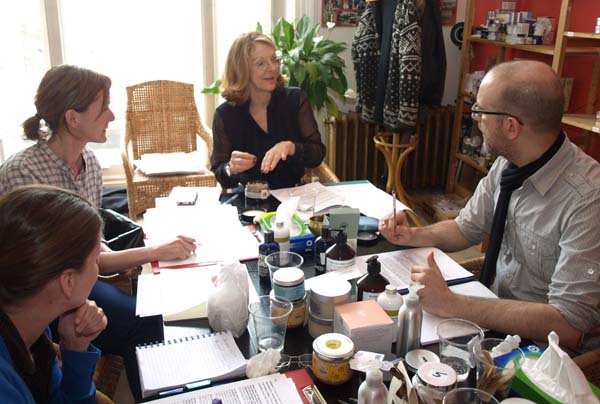 But seriously, our judges were just amazing this year. Aside from their unflagging motivation and lack of clock-watching as dusk began to invariably fall each evening with still a tableful of concoctions to get through, what they all shared was a passion for 'free from' skincare, and for choosing the right products to be put forward and potentially highly honoured. They understood that there is a genuinely serious dimension to these Awards: that the products we choose to reward will be looked upon by consumers who are seeking the best in appropriate skincare that meets their own particular 'free from' needs – be they for health, allergic, ethical, moral or personal reasons.
Their job is now done – and they did it brilliantly well. We can't thank them enough. Next, we'll be looking towards our Beauty Bible testers, who will be putting the Shortlisted candidates through their paces from early May through to early June. But we'll tell you all about how fantastic they are some other day …
To see what judges were looking for in this year's Awards, see our Awards FAQ.
To see our judging process and our full list of judges, see our Awards Judging page.
The FreeFrom Skincare Awards 2014 Shortlist and Commended List are now out.