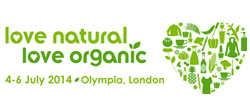 Last week Skins Matter and the FreeFrom Skincare Awards announced a new partnership with the Love Natural, Love Organic Show – the new event from the team behind the Allergy + FreeFrom Show, alongside which it will be located in this, its launch year, at the Grand Hall at Olympia from July 4th to 6th. V Delicious will also be there.
Although to the casual observer the subjects covered by these shows may not seem to overlap much, in fact there is much synergy if you approach them from a 'free from' perspective: one will offer the best in products free from artificial or synthetic ingredients; one will include offerings free from food and other allergens (or products which will help prevent exposure to them); one will be filled with goods free from animal sources.
What it does mean is that visitors primarily aiming for one show have the opportunity to explore the others – and learn much more about 'free from' from a perspective that may not necessarily apply to them, but which could potentially interest them nonetheless.
And for exhibitors, no matter at which show they exhibit, it offers the potential to capture a whole different, but yet related, consumer market …
'Free From' Skincare
Curiously, as far as skincare goes – manufacturers can theoretically sit in any of the three camps. That said, it is the new Love Natural, Love Organic show which will probably be most cosmetics companies' natural 'home' – unless, perhaps, they specifically target the vegan market or specialise in low-allergen skincare or skincare for eczema.
From exhibiting last year at the Show, we know that visitors from one show stray with curiosity into the others: mainly, we appreciated this through the many vegan visitors to our stand, asking us for beeswax-free skincare products. Quite often, to our shame, we were unsure. This year, we added an "Is the product vegan?" question to our FreeFrom Skincare Awards entry forms, so we hope to be better equipped to answer such questions of any of our shortlisted or winning products, when they are eventually chosen, and we showcase some at the Show.
We hope a lot of our Awards entrants (still being welcomed on our Facebook page) and the 'free from' brands we've worked with in the past decide to exhibit at the Show, and if you do, we'd urge you to familiarise yourselves with precisely what your products and ranges are free from – especially with regard to food allergens.
In our experience, very small manufacturers are far more knowledgeable than the medium to larger brands on this front. When we started a 'Free From' Food Allergens Skincare Directory last year, we sent a mailshot to all our contacts offering them a listing – if they could provide us with the 'free from food allergen' status of their ranges. The response wasn't great. Quite a few were stumped – some didn't know whether or not chestnut or coconut 'counted' as nuts, but worse, some weren't sure whether or not all their products were free from key food allergens such as sesame or wheat.
We really want to see skincare manufacturers get on top of this – and if you do, you will, we think, be rewarded with custom. The LNLO Show – or the Allergy + FreeFrom Show – is a good place to start showing off your wares and demonstrating your awareness to a diverse, discerning, and particular market.
But there's also a responsibility on the part of the consumer, here. We'd urge you to ask skincare manufacturers about their ingredients and the 'free from' status of their products. If you ask, and they don't know, hopefully they will go get the answer for you. Once they have the answer, they can let others know more quickly. Once they do that for a bit, they become known as a 'free from aware' cosmetics brand. Who knows, after that, if they keep getting asked, then they may add it to their websites – or, much better, to their labelling – which is what we'd really like to see.
A lot of this development really can be driven by you, and what you want to see, as well as by us, in rewarding the best 'free from' skincare out there.
So do exhibit, do visit, do get involved, do ask questions, do be informed – and do visit our stand (A230): a whole new 'free from' world awaits!
* To exhibit, contact Carmen Chan.
* To visit, click here for free tickets on us.