It's transition time at Skins Matter Towers. Having met with a select panel of judges a few months ago to plan the 2015 Free From Skincare Awards, it has been time in recent days to distribute the remaining boxes of samples left over from 2014 Awards' stage 2 judging — some are pictured below — to local charity shops and to The Simon Community, to whom we usually distribute some goods remaining from our FreeFrom Food Awards, and firmly cement our shift from thinking about 2014 to 2015 …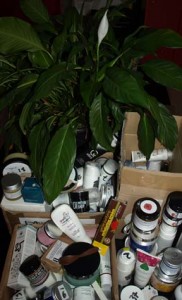 We have just sent out an email to our free-from skincare manufacturers about next year's Awards, which we are delighted to announce will open on the 2nd February. Journalists and editors, we'll be sending a press release to you shortly, and Beauty Bible testers, we'll also be in touch with some of you in January. But for now, and for others, here's a summary of the most important pieces of news:
1. We are 'reversing' judging next year. Next year, ALL entries will first go forward to Beauty Bible testers, with the top performing ones shortlisted, and progressing to judging panels to decide winners and medallists.
2. We have a new category — Fresh and Fragrant — which will include oral care products, deodorants, perfumes and other products which freshen or fragrance the body! And we are also introducing a special FreeFrom Achievement Award for a product with outstanding free-from qualities or which perhaps meets a specific need in allergy-friendly skincare. Thank you George, of Bathing Beauty, for that suggestion!
3. Most importantly, we are delighted to welcome back, for the fourth consecutive year, NATorigin as our first confirmed sponsors for 2015 (Family Skincare). Their support has been invaluable over these early years of the Awards — thank you, Michelle and James, for your faith in us and the Awards, since the very start! If you want to learn more about their products, check in to their site — not least for their terrific free from credentials here.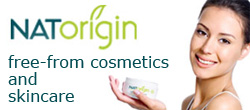 If you want to know more, we've almost finished updating our Awards site at www.freefromskincareawards.co.uk — and do leave questions here or email us for more information about any aspect of the Awards!
Wishing you all a Merry Christmas and a Happy New Year!