Well, maybe not quite all new — but lots really is new …
First, let's deal with the most conspicuous change, as we prepare to launch the seventh Free From Skincare Awards — the logo. We've been thinking about giving our logo a refresh for a while, and this year we handed over the task to talented designer Mat Klicz, who came up with lots of ideas for us to ponder. After some in-house mind-changing and toing-froing — Mat remaining patient throughout — we eventually settled for this (right), which we felt maintained echoes of our original colour choice, while developing it into more of a colour 'scheme', and which also reflected both our friendly nature (that FREE FROM font is very 'us' …) as well as our quite 'organic' and natural approach, both in how we run the Awards, and in the companies and products we tend to attract. We hope you agree, and that you like it.
Second, we have a new Free From Skincare Awards website. Previously, it was accommodated within our general skin-health site SkinsMatter.com, but now it's flown the nest and is proudly standalone. We hope, it's much easier for potential entrants to read in logical order what they need to read in order for them to decide whether and how and what to enter. We also hope it's easier for you to find past winners and the many excellent products that have participated in years past. There's also a freshly updated Medal Table (2012-17) to peruse …. Every brand who has ever won any award with us is included! It's quite a roll-call ….
Third, we have lightly adjusted our entry procedure. This year, entrants will be asked to buy their entries at our online shop (which will go live on 1st February, when the awards open) and then complete their entry forms and send them in to us. Hopefully, this will be less admin-y for both parties — fewer form details to fill in for entrants, fewer accounts worries for us!
Fourth, we have a new Instagram account — and a new social media manager looking after it! Here she is (left). Her name is Isil Simsek, and she runs social media management agency Social Thyme. In a matter of mere weeks, she has managed to develop the Free From Skincare Awards Instagram page from scratch into a thing of artful beauty — with previous winners pictured alongside serene images from nature and delicious botanicals, in periodically changing, colour co-ordinated posts. It's lovely, we're sure you'll agree — pop over and say hello.
Fifth — well, a hoped-for fifth — is … new brands! Last year, almost half of the entrants were first-time entrants, and we've had enough pre-Award opening enquiries from either new start-up brands, or brands who've never entered before, to suggest that, this year, we may see record numbers of newbies losing their FFSA virginity! We know that discovering previously unknown products is what most excites our Testers and Judges through their involvement in our Awards, and can't wait to see what comes in.
Sixth — an exciting new networking and presentation event, which will take place in July, independently of our previous hosts and partners the Love Natural Love You Show, with whom we have very amicably parted company. Still in the early planning stages, we hope it will be at Olympia on the 5th July, and involve beauty and skincare luminaries from all fields — with buyers, sponsor stands, press and bloggers, formulators, industry experts and, of course, entrants, all coming together to celebrate all things 'free from' skincare and, hopefully, learn a lot from one another and — again — discover new brands.
But … it's not all new!
I'm still here — you'll no doubt still be relieved (or dismayed) to learn, and I'll be dealing with all initial entries, Twitter, and with tester recruitment, product allocation and feedback collation.
Kirsty — who I'm sure you all remember joined us last year — has accepted the challenge to return for 2018. She'll be responsible for accepting entries, calling in and checking all samples, and dispatching them to our testers. Most importantly, though, she'll be working on preparation for our big July event.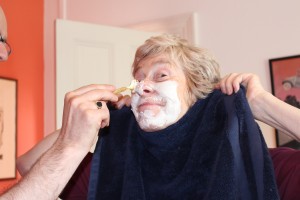 Michelle — our Free From Awards director — is always rock-steady at the helm, and will no doubt be on hand to bear the brunt of my rather rough-and-ready face-mask application technique (which she seems to be enjoying here, right), should the need arise — as well as keep judges fed and (more importantly) fully caffeinated throughout lo-ong days of product judging come June.
Supporters? We're delighted that our original partnership with the Ultimate Natural Beauty Bible continues, and we already have some familiar faces return to our fold as sponsors. NATOrigin, whose hypoallergenic 'high tolerance' make up products have become legendary in sensitive-skin circles, return to sponsor us for a seventh consecutive year; organic online cosmetic training school Formula Botanica, whose judges are an invaluable addition to our team, return as both sponsors and partners; and Bare & Beyond, The Organic Marketplace, who stock highly natural and some lesser-known brands, are back again too. We'll be telling you more about them all in coming months …
Something else that never changes — how seriously we take what we do. We believe we're the most rigorously judged skincare Award on the market. There's no meaningless voting here — a system which merely rewards widely distributed brands with large social media presences. Nope — each product entered swims (or, rarely, sinks) on its own merits, after four testers put it through its paces for a whole month.
So, a product made by a lady working in her garden shed, has just as much chance of winning as a mass-produced cream, manufactured by a giant of the natural skincare world. We keep prices low so 'smaller' folk can participate — we feel it our duty to encourage the next generation of 'free from' skincare — and there is never any bias shown towards sponsors, or advertisers, or other partners, be they past or present. We're as fair and open and honest as we can be … Uncertain of anything? Just ask us. We'll tell.
So finally …
We hope, if you're a consumer with 'free from' needs, that you follow the Awards closely this year, and perhaps find something new to try for either your allergy-prone or sensitive skin or for your natural / organic cosmetic toolkit. If you're on social media, our hashtag will be #FFSA18. Do share your thoughts with us.
And, if you're a potential entrant, we hope that you decide to take the plunge and enter some of your products … We're itching to see them!
Want to know how to enter the 2018 Free From Skincare Awards? Start here.
Interested in sponsoring a category in the 2018 Free From Skincare Awards? Learn more here.