Well, a few weeks ago we had a look ahead to the Allergy and Free From Show, and now – after the event – it's time for a look back!
Events for us were centred around the announcements of the winners of the FreeFrom Skincare Awards on Friday 7th. It was the culmination of almost a year's work, from the initial planning last summer after the 2012 Awards, to the publicity and announcements in December, through to the awards' opening in January, then the various judging stages in March, April and May…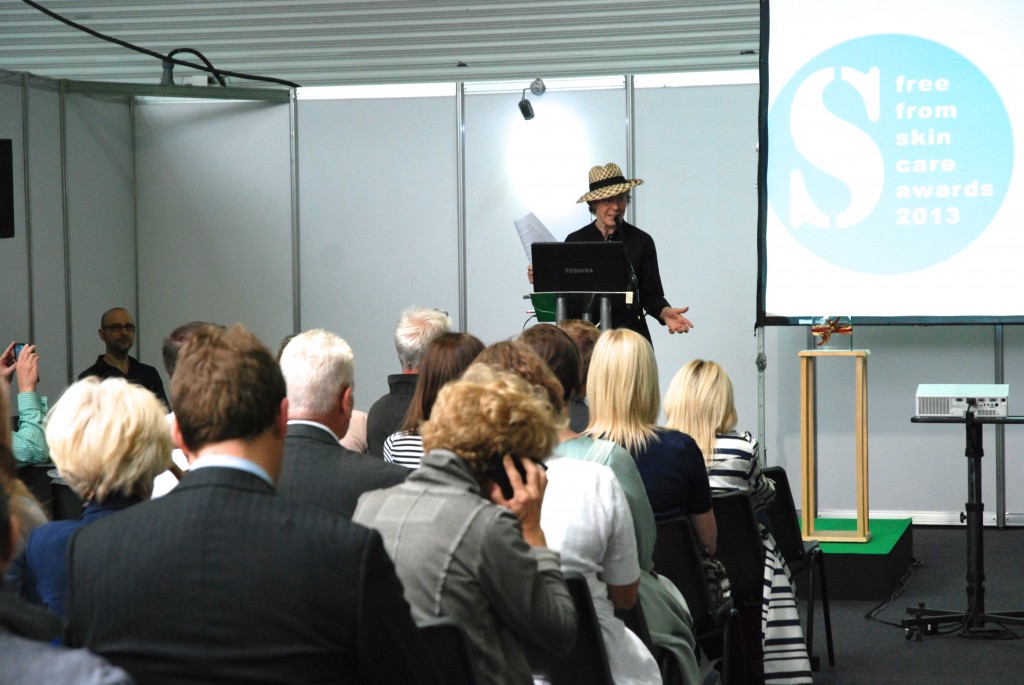 Michelle (pictured left, speaking) and I were delighted at the large turnout for the presentation, of not only shortlisted manufacturers, including our supportive sponsor James of NATorigin, but also bloggers, testers and other interested parties, and it was terrific to have Janey Lee Grace along to present winners with their certificates – and the trophy to Barefoot for their overall winning SOS Face and Body Rescue Cream.
You can find all the winners, plus our testers' and our own brief comments on them, via the Winners section on the SkinsMatter.com site. Click on the links at the foot to take you to category winners and runners-up, and click here for some pictures.
Although, as might be expected, larger brands such as Green People and Neal's Yard Remedies did well, we were pleased that so many smaller companies performed brilliantly too. Many cleaned up on the product categories! It meant a lot to us that many boutique or 'one woman' brands thanked us either in person or via email after the event for launching an award which was accessible to even the 'little folk', and which offered a fair chance of either winning or doing well – among them Sandra from Aedos, Emma from Eve of St Agnes, and Althea from Thea Skincare – and we're happy that this has been recognised and welcomed.
To some extent this vindicates our decision to launch these awards, and the fact that we thought they were needed. Many of the awards we looked at when we were conceiving the FreeFrom Skincare Awards in 2011 either seemed to charge prohibitively high entry fees or appeared to us to offer advantages to companies with generous marketing budgets, or with a large following of consumers, or a wide distribution…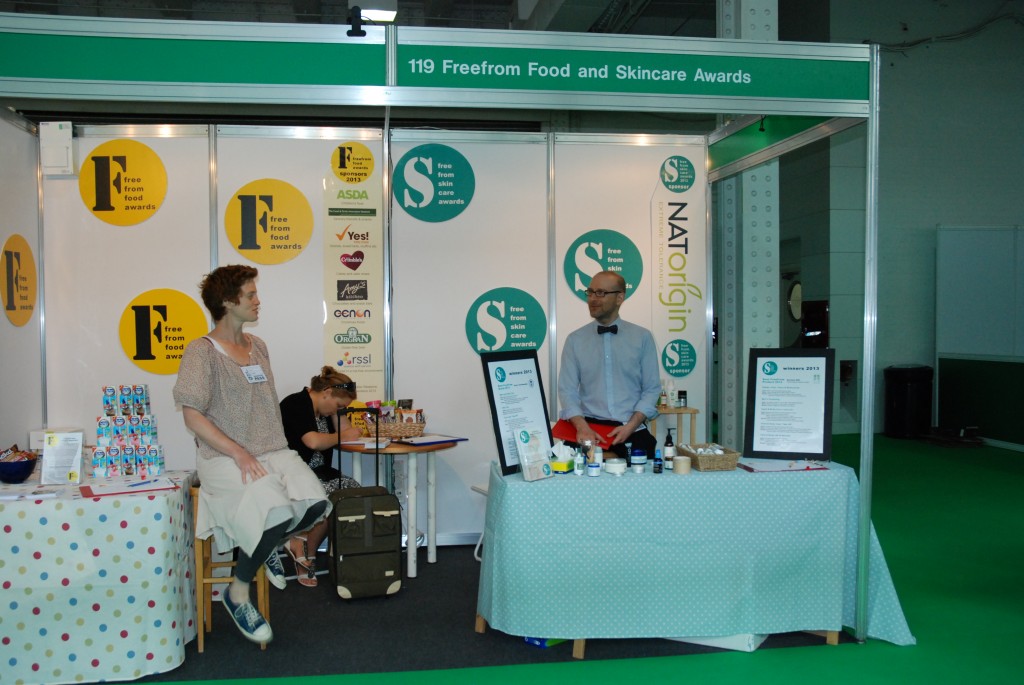 We always wanted the awards to be as accessible as possible, and to be fair. And we wanted to try to encourage smaller producers via reduced entry fees. While these will have to rise next year, we will continue to offer a discount to companies with only one or two members of staff, in order to help popularise new 'free from' skincare in the market. The larger brands, to some extent, arguably already have a little advantage in that they often have built up such a strong – and no doubt deserved – reputation, so we feel this helps level up the playing field even more. And with ten members from our huge team of independent Beauty Bible testers scoring each of the shortlisted candidates after a rigorous month-long trialling period, you can be assured that anyone has the same chance to win – be it small company, large company, advertiser, non-advertiser, sponsor or non-sponsor alike!
Our stand (pictured above, Cressida on the left, yours truly on the right, during a rare moment of calm) was exceptionally busy on Saturday and Sunday. It was great to meet readers, and to introduce new folk to what we do. People were keen to sign-up to our newsletter (you can do so here, by the way) and try the shortlisted creams and balms, which we rotated on our table. Samples donated by brands such as AEOS, Mary Jean, Aedos, Green People and Suti went down well, as you can imagine!
For us, it was a learning experience. One mum was searching for citric acid-free skincare, which admittedly stumped us, and it amazed us that so many were looking for vegan products –while dairy-free products are easily available, finding balms without beeswax is tougher. Many consumers look for skincare with multiple 'free from' attributes – such as petrochemicals, parabens, nuts, gluten and alchol. Let's hope 'free from' labelling continues to improve, and begins to take in food allergens too.
We will be at Liverpool for the Allergy and Free From Show North in October, and hope to see many readers there. A final thank-you to the terrific team from the Allergy and Free From Show for being associates of the Awards. Visitors can never know the amount of work that goes into organising a huge show such as theirs, and everyone behind it is dedicated to bringing a terrific three-day event to all those with 'free from' needs – be they dietary or lifestyle or both. They worked hard to bring more skincare to the Show this year, and we know how pleased many of you were about it!
If you have any views about smaller 'free from' brands or if you were at the Show and have some thoughts on the skincare there … do let us know!