A quick round-up of some free from Christmas gift sets … Back this year by popular demand!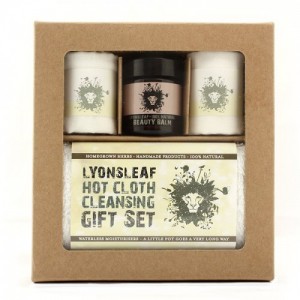 Our friends at Lyonsleaf – who are, of course, multiple medallists in the FreeFrom Skincare Awards – including a gold in 2015 for their Beauty Balm – have a number of gift sets. They start at £9.99, with this Hot Cloth Cleanser Gift Set, containing 30ml Beauty Balm (moisturiser and hot cloth cleanser in one), white cotton face flannel and two two-ply muslin face cloths. Other sets include the 100% Natural Body and Face Gift Set (£12.99 – includes both Beauty Balm and Body Butter, as well as sundries) and the Face Saviour Gift Set (£14.99 – with Beauty Balm and Calendula Balm).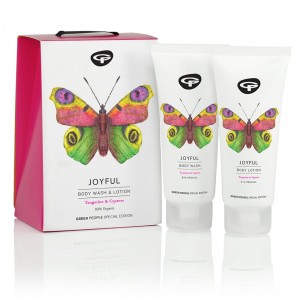 Also multiple medallists in our Awards are Green People, who have a number of attractive natural and organic beauty sets and boxes. They include this Joyful Gift Set of Body Lotion and Body Wash (Tangerine and Cypress) (£19.99), plus others including the Soothe Facial Trio and Skin Glow Trio. Options for guys include Hydrate Men's Kit and Energise Men's Body Set, and the fragrance free option is the Organic Skin Balance Pack consist of natural scent-free cleanser and 24 hour face cream.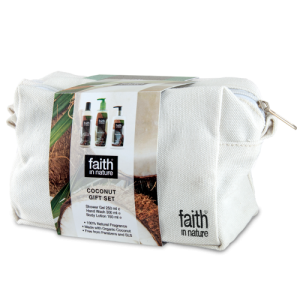 Gold winners for their coconut shampoo in 2014, Faith in Nature always have good gift sets: three options here this year. Blue Cedar, Lavender & Geranium, and Coconut. The Blue Cedar is the men's option – shampoo, shower gel and bar soap – while the other two contain shower gel, body lotion and hand wash. £14.99 for the men's set; £16.99 for the women's.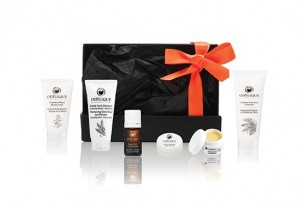 Also previous gold winners, Odylique have a wide selection of attractively packaged gift sets, including this new Odylique Selection Box pictured (£27) which contains a mini selection of a number of brand favourites – Creamy Coconut Cleanser, Calming Rose Super Tonic, Timeless Rose Moisturiser, Superfruit Concentrate, Coconut Candy Scrub (which took a gold in 2014), Gentle Herb Shampoo (a gold in 2013), and Ultra Rich Balm. Other options include a baby gift / travel set, and a Rose Full Size Gift Set.
Others to explore …
All Natural Soap – Christmas Gifts
Balm Balm – Gifts
Bathing Beauty – Gifts
Beatitude – Luxury Gift Boxes
Beauty Kitchen – Gifts
Beeutiful – Gift Box
Botanicals – Gift Collections
Conscious Skincare – Christmas Shop
Elixirs of Life – Natural Eco-friendly Gifts
Eve of St Agnes – Gifts
Kinvara Skincare – Capsule Collection Gift Set
Living Naturally – Soapnut Gifts
Naked Skincare Company – Gifts
Neal's Yard Remedies – Gifts
Pai Skincare – Gift Store
The Rose Tree – Gifts
Ruth Romano – Gift Sets
Seascape Island Apothecary – Gifts