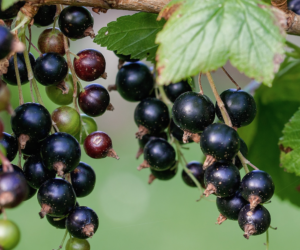 We were intrigued recently to learn of the development of a 'Ribena' hair dye, made from the skins of blackcurrants who've given up their juice to make the popular British cordial and would otherwise be disposed of. Read the Telegraph's report here.
The new technology exploits the fruit's colourful antioxidants' ability to bind to protein in hair, leading to intense blues, purples and reds, and when combined with yellow, also to browns.
Apparently, the dye can last for around 12 washes or more — which sounds longer than, for example, dyes made from henna, indigo, beetroot and other plant dye blends.
The scientific team from Leeds who have developed it have launched a spin-off company called Keracol and plan to launch the dyes onto the market in the late summer.
It will be very interesting to see how 'free from' the hair dyes turn out to be. As they can only be semi-permanent, they will be free from PPD, which is only found in permanent hair dyes, which can cause extreme allergic reactions, and about which we have written a lot on the Skins Matter site — see here for Michelle's analysis, and see here for Alex's round-up of PPD free brands — but whether 'free from' other ingredients (as pure henna dyes are) remains to be seen. A lot of hair dyes may be free from PPD, but can contain fragrance allergens, preservative allergens such as methylisothiazolinone, and ingredients such as ammonia and peroxide which some women wish to avoid.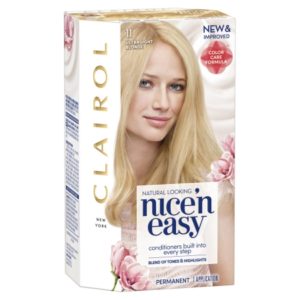 An allergy friendly molecule
In the effort to come up with a permanent solution to the PPD problem, Procter & Gamble have been working on and have now patented an alternative called ME+, which is less likely to allergically sensitise women who like to dye their hair.
They're using it in their new Nice 'N Easy Hair Color formula and in their marketing campaigns have described ME+ — which is still a form of PPD, and has full name ME-PPD, or 2-methoxymethyl-p-phenylenediamine — as an "allergy gentle molecule".
Whether or not this is a reasonable description is up for debate. Around a third of women allergic to PPD cannot tolerate ME-PPD, and there are other allergenic ingredients in the hair dye in which it is used, so consumers should still take a lot of care about the ingredients, and their particular allergens, and to look for any reassurance from free from labelling.
To read more about the so-called allergy gentle molecule, and the ingredients of the Nice 'N Easy, see Alex's article here.
Award-winning haircare?
As most readers will know, we're just about to start our second phase of judging for the Free From Skincare Awards, with expert judging panels considering the provisional shortlist of products, as decided by our testers.
Sadly, we didn't have any hair dyes entered into the category this year — though if this is a developing area, as it appears to be, perhaps we'll see some blackcurrant-containing entries next year? — but what we did have were a number of very interesting shampoos, conditioners and hair treatments.
We'll be judging the entries this Friday, and we'll be keeping an eye on any interesting free from claims, and whether 'gluten free' is among them. You may have noticed the Herbal Essences Bio Renew ad recently, which is causing a bit of controversy for making a prominent 'no gluten' claim in its marketing and its packaging.
Is this a reasonable reassurance to those who want or need to avoid wheat or gluten — or is it merely jumping on a bandwagon of anti-gluten marketing?
The answer isn't a straightforward one, and touches upon our beliefs as to what good free from cosmetics labelling should be about — and what it shouldn't be about. If you want to know more about Herbal Essences Bio Renew and gluten-free shampoo in general, you can read Alex's recent post here.
Some of our judges will have slightly different views, no doubt, so it will be interesting to hear what they have to say about free from labelling this week during judging — and of course how it impacts on the results!
We'll be keeping you updated through social media, so do follow and engage if you can!
You can find us on Twitter, on Facebook, and on Instagram.