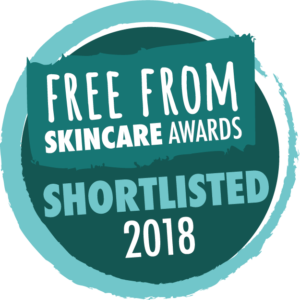 Phew! At last! The announcement of the Shortlist for the 7th Free From Skincare Awards has just been made! It comes over four months after we opened for entry. Four months is, granted, a fairly long time, and we often get asked by entrants why the process is so drawn-out. Well …..
The Testing 
The entry period lasts from the 1st February until deep into March. Processing and checking well over 200 entry forms and entries takes time, and that's before you take into account accepting the entries, requesting samples, sending out 'entrant' logos, sharing the news on social media, checking and unpacking the products when they arrive …
And then comes the allocation of all the products to our 100-strong team of testers. This has to be carefully done because many of these testers have free from needs — some are vegan, some are nut-allergic, some are fragrance allergic, some avoid alcohol, many have eczema and problem skin conditions meaning they can only test certain products. Careful 'matching' up of the cosmetics entered has to be conducted, involving a lot of ingredient checking – it takes me up to a month.
You see, personal circumstances and cosmetic routines also need to be considered. This is more complex than it may sound. It's no good sending a bath oil to a tester with only a shower in the home. Ditto a shampoo or conditioner to a shaven-headed male tester. Nipple balms, stretch mark oils and baby washes have to be sent to expectant or new mums. Anti-ageing products to middle-aged testers only. These and many more questions like them have to be carefully checked against tester profiles before products can be allocated.
Once the allocations are completed, the products have to be dispatched to testers – and this is where Kirsty and her assistant Rachel have to get organised with their packing! And careful instructions given to the testers too. Surely, you might say, all the instructions are on the products? Well, usually, yes, but there is always something extra that needs to be conveyed. For instance, is a hand and body lotion to be tested on hands or body? Hands if it's in the Hands, Feet and Nails category; body if it's on the Body Care (Leave On) category. Sometimes there are questions, sometimes there are reactions – which may mean a product needs to be re-allocated – and sometimes things go wrong and life gets in the way. All these add other dimensions of complexity to the process.
Once testing is over, testers fill in detailed feedback form, giving scores and sharing thoughts and experiences. Around 1,000 of them come through to me. These have to be read and processed and collated – a job which takes several weeks too. From those scores and comments – 400 pages of them this year – a Shortlist is drawn up, and then the next phase can begin …
The Judging
The panel judging of the shortlisted products took place last week. This is where we – the Free From Skincare Awards team, plus a group of judges – gather together in Hampstead to consider the shortlisted products in each category.
It's fun, but it's hard work. We look at labelling compliance, allergy awareness, innovation, versatility, value for money, and much more besides. We try the products, we discuss the products, we agree, we disagree, we ponder and we deliberate, and we take into account all the tester feedback – and finally, we come to a decision as to whether each product deserves a bronze, a silver, or a gold medal in the Awards.
Several issues kept resurfacing this year:
* Fragrance allergens – are they correctly listed?
* 'Organic' claims – is it reasonable for uncertified brands and products to make such claims? If so, how 'loudly' is it fair for them to shout on their labels?
* Pricing – is any cosmetic really worth almost £100? Affordable skincare was really welcomed by judges and testers this year.
* Oils in clear bottles – why not protect precious therapeutic oils in dark glass?
* Dispensers – we had quite a few struggles with opening boxes, opening sealed pumps, over-dispensing squirters, and having to dip fingers into jars we might not always want to dip fingers into …
* Free from labelling – we love to see this, when used discretely in a non-alarmist way, but we felt we saw less of it this year. Could brands be getting alarmed at threats made against such labelling by the legislators?
It's always challenging. When we consider so many different aspects, deciding how much 'weight' to give to any particular judging criterion is tough. It's a struggle when so many products perform well, but not everyone can get a medal. Difficult decisions have to be made – as they indeed were, and we can't wait to announce what they are to you all!
For that, you'll have to wait until the 5th July, when we will be announcing the winners at a special presentation and networking event taking place in the evening at the Pillar Room, Olympia, with a panel discussion, opportunities for network, a few drinks, a few nibbles, and hopefully, a whole lot of fun. Invites will be sent to all entrants very soon!
In the meantime, you may be interested to see our partners' Formula Botanica's excellent vlog, available on YouTube, which offers a terrific and sometimes amusing insight into what the judges get up to during the judging week! Enjoy!