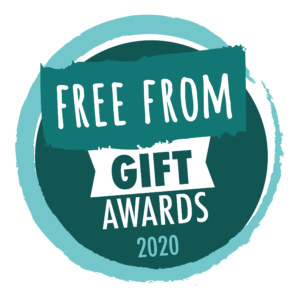 It seems like only yesterday we were unveiling the opening of the inaugural Free From Gift Awards — although it was almost three months ago — and yet earlier this week we found ourselves very busy on Twitter, announcing the full results — every medal in every category — during a long and eventful Tuesday which kicked off at 10.30am and ended with the eventual announcement of the overall champion, the wonderful No Secrets' Home Spa (pictured bottom) at just gone 7pm. 
Despite having our doubts about whether the launch would be a success, almost 80 entries were submitted from almost 50 brands, and the variety was admirable — we had gifts for babies, children, men, although most, naturally, were aimed at women, and some were suitable for all genders.
There were face cleansing kits, face serum sets, collections of soaps, pampering body products, moisturising duos, shampoo and conditioner pairs …
And, as we decided to permit additional skincare tools and accessories within entries, we were also treated to a diverse and welcome set of face cloths, soap dishes, bath sponges, loofahs, hair brushes, foot scrubbers, nail brushes … 
Furthermore, because non-skincare components were allowed to some degree as well, we enjoyed candles — with a smart box of matches, in the case of the overall champion! — a bee Christmas decoration made of wood (thank you The Great British Bee Co, who took a Silver for their Festive Hexagon Hand Care Gift Set in the Body & Bath Care Category, pictured right), hair scrunchies (care of Locks in Goodness, whose Natural Hairstyling Gift Set bagged a Bronze in Family Skincare), pillow / sleep sprays (several entries, including Gaia Skincare's Sleep Set, which took Silver in Sleep & Serenity), a rose quartz crystal (Bliss Botanicals' Love Rituals Box, a Bronze medallist in Body & Bath Care), a snuggle wrap for babies (in BeeInspired's Nappy Cream, Bronze winner in Family Skincare), and even in one case, bronze-medalling Pampering Self Care Letterbox from The Natural Beauty Pot in Face Care, a bar of chocolate, a tea bag, and a soya wax melt! 
All in all, a veritable treat for our testers to enjoy — but of course to assess as well …
But despite enjoyable variety, this was a skincare award at heart — a spin-off from our main Free From Skincare Awards, which takes place every year in the first and second quarters — and although we placed less emphasis on rigorous testing of the cosmetic elements, and more on the emotional experience of receiving (and potentially giving) the gift, as well as whether each entry constituted a 'good' gift in terms of content, value for money, thoughtfulness, design, packaging and so on, our testers still put the skincare through their paces as much as our tight time schedule allowed.
Any first edition of an Award is to some degree an experiment, and we knew there would be key learnings to take forward from the inaugural year to subsequent years' awards, if we decided to go ahead, which I hope we will.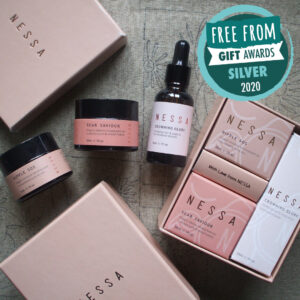 Here are some general common observations: 
Many testers saw gift-receiving and gift-giving as a female-dominated activity — mentioning how they'd love to receive the gifts not from the men in their lives (such as sons, husbands, boyfriends), but the women (such as sisters, daughters, friends), and even for non-gendered gift sets, the preference was to give to other women too. 

Certain components were seen as almost too personal to gift — such as eye creams — and even though some of the more non-everyday or unusual cosmetic products did well, there was a view that they could be potentially difficult to gift unless the giver could be certain the recipient might welcome them.

In mixed sets, two of the same kind of element — be it two soaps, two candles, two balms — were generally disliked, with a strong preference for an alternative product for one of the two, or else a larger version of the duplicate item.

Testers commonly felt a box size should be appropriate to the contents — although many still did well, there were several entries filled with a lot of 'filler', paper and shreds, and with few items to be found within. Tightly assembled entries — such as Nessa's Skin & Hair Saviours Gift Set (pictured above right), which took a Silver in Family Skincare, or the half a dozen Lyonsleaf entries, which between them scored a record-breaking 10 medals across categories — were welcomed as being space-saving, greener and more 'satisfying'. 
However …..
Tastes varied considerably when it came to presentation and first impressions — some were thrilled with ribbons and prettiness, others didn't need 'bells and whistles' and were more focused on content; some said they enjoyed the thrill of a plain box, and the peeling back of layers of tissue inside to reveal the 'prize' of the gift inside, but others said they were happy to see contents pictured on the boxes, and had no need for a build up of be 'surprised'; 'wow' factor was enjoyed by some, but a more pared-back or elegant style preferred by others, while some were happy with utilitarian packaging, or even products with a green or homemade vibe — they didn't have to be chic or beauty-counter 'professional'. 
Because of this, we have learned that we need to get to know our testers better with regards to their gifting tastes. We know their skin types, we know their skincare history, we know very precisely what their skin routines — and hair routines — are, we know what they always use, sometimes use, or never use. This enables careful matching of entry to tester when it comes to our Free From Skincare Awards, and to a large extent we depended on in the Gift Awards, to allocate entries accordingly.
But when it comes to gifting, they're sometimes looking for something different — be it a treat, or a novelty, or an experience, or a surprise, or a thought, or even a creation — and this is what we need to better understand. That way, your future gift entries can be even more appropriately matched to testers, which will lead to an even more fairer assessment of products than we managed this year. 
What else needs to change? 
It's also our job to fine tune other aspects of the Free From Gift Awards — but for that we need your input!
Categories. We created the Stocking Filler category at the eleventh hour as it seemed unfair the more modest, small, affordable items were being somewhat put in the shade by the more ostentatious gifts. So, rather than categorise by body part or theme, should we use price as a determinant? Or should we perhaps consider categories defined by recipients — a mum category, a wife category, a friend category? 
Timings. Curiously, we were asked by some entrants to run the Awards earlier (to allow for earlier announcement of results, in order to benefit from greater publicity in the Christmas run-up) and by others to run them later (many brands did not have their seasonal gift offering prepared until later in October, after our entry closing date). This is a very tricky one to get right. Roughly, we opened throughout September for entries, and conducted most assessment in October, with early November being judging, results collation, and preparation for the results. Did that work for you? If not, why not? 
Rigour. We asked entrants for two sample gift sets — one went to a tester, the other we reserved for photography, for judges' assessment, and for additional judges' testing. Is that enough? Would you prefer more rigour — two gifts to send out to two testers? Would you then be prepared to send three samples of your entry — and, given the increased workload, pay a higher entry fee? Or would you prefer to go the other way? Less rigorous testing and only judges' assessment, with a short entry period in October and quick results? This would keep fees lower. That said, as we like to run rigorous awards, this wouldn't be our preference — but would consider it if you called for it. 
As we hope you'll see, we consider these your Awards yours as much as ours. What you want from them — be it useful feedback, publicity, reward, glory, participation, or whatever — should help us all determine how they develop.
Let us know, people, let us know! 
To view the complete the results of The Free From Gift Awards 2020 by category, start here. You can download a Word file of the winners from our press page.