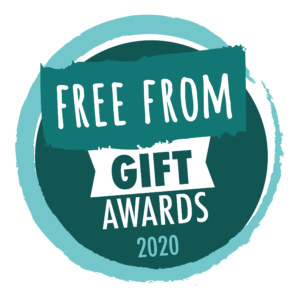 Every year, some potential entrants to our Free From Skincare Awards, which open in January / February and have been running since 2012, look to enter gift sets, collection boxes, trial packs, perhaps a few attractive selections of soaps, or some shampoo and conditioner duos, into the awards.
And it falls to me — Alex the Jobsworth — to politely point out that the FFSAs are for individual products only, are tested rigorously as standalone cosmetics, and that sadly we can't accept them ….
Well, that has now all changed … 
We are an odd mixture of excited, proud and nervous to be announcing the launch of the Free From Gift Awards — an award for sets, collections and gift boxes of two to six products, at least half of which should be cosmetics which meet our usual Free From Skincare Awards criteria. 
In truth, it is more of a spin-off award than a new award — we're viewing it as a component of the Free From Skincare Awards, taking place during a far more appropriate time of year, when we are all beginning to think more about gifts in the run-up to Christmas. As you can see from our new logo above right, the similarity with its 'parent' is very close!
As a new award, we wanted to make it accessible to as many as possible. All brands can, if they wish, participate for under £100, and smaller brands get a discount on top of that. Given the timeframes involved, we won't announce a shortlist, nor will we be able to conduct as much testing of the products as we usually do, but each set or gift will be sent to a tester for month-long evaluation, and also go before a panel of our judges too, all of whom will be offered the chance to take some gifts home with them to trial further, and to gift on to friends and family themselves, for further feedback. There will be more focus on the gifting element when we consider our choices … Is the set a good gift to give? Is the collection a wonderful set to receive? 
Category-wise, things are a little different. We've provisionally set six product categories — including Face Care, Hair Care, and Soap Bars — but have added five optional add-on 'themed' categories too — including Eco/Green, Vegan, and Luxury — up to two of which can be entered for small additional fees.
What's more unusual though — and something that we have never done before — is that we are happy to consider extra categories if entrants demand them! If there are enough calls for a particular category, we will certainly look at adding it! 
Want to know more? 
Click through to the dedicated Free From Gift Awards page on the main FFSA site, where you can find out more details about the the FFGAs will work, and of course … how to enter! 
Deadline is 27th September …