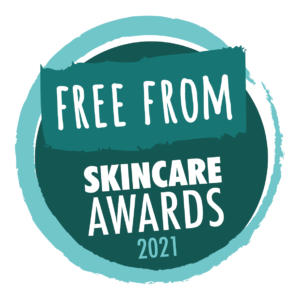 Well over 300 entries, from around 170 entrants, in 15 countries — that's the final tally for this, the tenth Free From Skincare Awards!
All of those entrants (albeit not every one of their entries) have been showcased on our Instagram page, and if you've not seen the impressive standard, please take a scroll through our grid to see all the runners and riders — a bonanza of variety, curiosity, colour and temptation!
The percentage of first-time entrants has perhaps never been higher — around 55% of brands are new to our Awards — and while we are sad that some familiar names couldn't or chose not to compete this year, we are thrilled to have our two most recent overall champions, Weleda and Uoga Uoga, last year's sponsors Lyonsleaf, and among all the wonderful others a battalion of tiny one-person brands on the other end of the spectrum, who have invested some of their marketing budget on us, during one of the most difficult periods in living memory. We know how badly the pandemic has hit, for instance, spa brands, who are sadly mostly absent from the FFSAs this year, but we very much appreciate every one of those who have found a way to support us during tough times. 
So what of those diverse entries? 
Balms and oils, as always, feature considerably, but closer inspection reveals some new trends.
The hair care category now is bursting with both shampoo and conditioner bars, in what looks like an ongoing shift away from liquid hair products, although we've seen some traditional products too, including hair oils and masques. Last year, a shampoo bar (Citrus Shampoo Bar by Hairy Jayne) triumphed in this category, but will the liquid products reclaim the top gong in 2021? It's one of our largest categories this year, which is quite something for what used to be rather a niche and small category in the early days of our Awards, where the performance of products often struggled relative to others. Tester feedback will be fascinating. Hair products have really improved in recent years.
Another trend, one which we were happy to see, is one of increased fragrance-free products — and indeed we had what we think is our first fragrance free hair conditioner bar, by Fiini Naturally, as well as a very minimalist hemp soap paste from Zero, with only four non-allergenic ingredients — both great from a free-from perspective. Elsewhere there were fragrance free oils, soap bars, cleansers and moisturisers. So many, in fact, that our fragrance-allergic testers were more than sated with products, and we had to send quite a few to non-fragrance-allergic testers, with guidance not to penalise these unscented wonders for lack of fragrance. We've only had two fragrance-free overall champions in the previous nine years of competition (2017's Benecos Lip Balm; 2018's Harborist Balm-Gel Cleanser) but there are so many in the running in 2021, that the odds of seeing a third are higher than usual.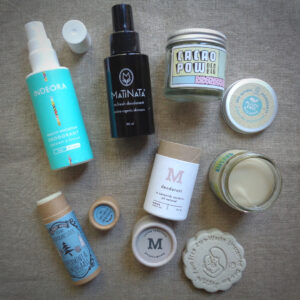 Our Deodorants category — a new category for 2021, along with Toners & Waters — has been a revelation. We've seen both fragrance-free and wonderfully scented examples in the form of balms, bars, sticks, gels and pump sprays, with entries from as far afield as Croatia (Matinata) and Slovenia (Madres). We can't wait to read what our testers think of all, and we wish we'd launched this category years ago, as it's so important to those with sensitive skins especially to find the right product for armpits, one of the most delicate areas. (Some entrants pictured right.)
Testers Feedback and the Finalists
Four samples of every entry are put through their paces for a month by our testers. That has meant well over 1,200 products have been sent out to our 100-odd testers, with some having to take on a few extras once testing of their first set was complete. Testing is still ongoing; results are still coming in. The dedication our testers demonstrate is remarkable. Remember that our testers overhaul their entire beauty regimens, replacing them with entrants' products, and test rigorously for four weeks, keeping notes along the way on every one, then completing questionnaires and score-cards. 
Soon we will be in a position to publish The List of Finalists. We decided to move away from calling it the "Shortlist" as we have in previous years, because the quality is now so high, that our Lists have become anything but 'short', and this year it looks like it could be the longest yet, if early results are an accurate indication. We have always aimed for a policy of putting entries through to the final judging stage on individual merit, not group pecking order. Roughly speaking, if 3 out of the 4 testers give the unequivocal thumbs up to a product, it will almost certainly go through to judging week, even if scores for most competing products are higher. 
1st June at 11am is when we reveal all! 
Judging week
Well, we say judging week, but it'll be judging weeks, with Michelle already prepared to welcome a few weeks' worth of judging guests to her house in North London throughout June, where the big decisions will be made. 
Not all our previous judges may be able to attend due to you-know-what, but we know some will, and we may, for the first time and weather permitting, judge in the open air, to help with distancing. 
Entrants may assume that we rule them out from participating as Judges too, but this isn't the case. Obviously, there is no question of an entrant judging a category in which they are participating or have a vested interest, but our policy of transparency means we like to open up our judging processes to those who support us, so they can see in practice how it all works. Too many awards, we feel, are secretive about their procedures, but we are not, and feel it is important brands understand how we operate.
So if you are a past or present entrant who is interested in judging, for a half day or a whole day, have easy access to North London, please drop Alex an email, and he can tell you more.