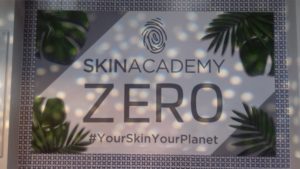 We receive a lot of invitations to skincare and beauty launches of one kind or another at Skins Matter, but rarely does one catch our eye or appear to be right up our street quite as much as this one seemed to be …
Skin Academy's announcement earlier this month of their new 100% natural Zero range of products, though, really did capture our attention in the SM offices — here was a brand putting its 'free from' qualities at the heart of its name, branding and philosophy.
Accordingly, last Thursday, Free From Skincare Awards administrator Kirsty and I (pictured below) took ourselves along to the Bellavita Academy — an Italian culinary centre, which runs a huge variety of classes and food events — based in Whitechapel, where the preview launch parties were being held, to check out the range four ourselves and meet the team behind it (and it has to be said, to eat some pizza too …).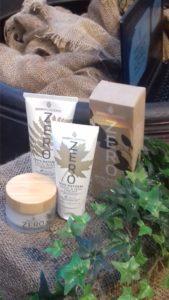 So what exactly is the Zero range? Well, the launch products are half a dozen in number, mostly facial skincare products — Face Wash, Face Scrub, Hand & Nail Cream, Day Cream, Night Cream and Eye Cream — which are extremely reasonably priced (£9.99 for tube products; £12.99 for those in a jar).
What are the key Zero attributes? According to the marketing material, there are zero synthetic preservatives, artificial ingredients, artificial fragrance, parabens and SLES/SLS.
But scrutinising the ingredients reveals other 'free from' qualities which are worth conveying …
The preservative used is dermosoft® 1388 eco — a gentle, simple, prepared blend, including active plant preservatives sodium levulinate and sodium anisate, and totally natural. This, then, is good news for those with common preservative allergies, such as to MI/MCI or formaldehyde-releasers, which tend to be among the most problematic, at least among our readers and followers, and to those looking to avoid synthetic preservatives, for whatever reason.
There are nuts present — almond oil, as well as non-allergenic coconut oil and shea butter — which are in the full range as signature ingredients, and in a few are what I first took to be some peanut derivatives (arachidyl glucoside / arachidyl alcohol), but which are in fact from alternative plant origin (wheat, maize / manioc and rapeseed); from scrutinising the labels, it appears the range is free of other food allergens, and it is certainly vegan.
The range is not fragrance free … I did ask the wonderfully genial Chief Executive Antony Wagman whether he was concerned that a brand called Zero might be expected to be so, but he explained that the fragrance was 100% naturally sourced, quite subtle, and added that he felt most formulations required a little fragrancing, if only to enhance pleasure of use or as a masking for other skin-beneficial ingredients present with natural odours some consumers may not like.
I couldn't see the fragrance blend described on any of the products, but the marketing materials state that it is composed of sweet orange, chamomile, ylang ylang, geranium and jasmine. The only fragrance allergens declared are citronellol, geraniol and limonene. Of the products I tried, the fragrance does seem gentle and not remotely too strong, and the citrus mainly comes through according to my personal 'sniff' test!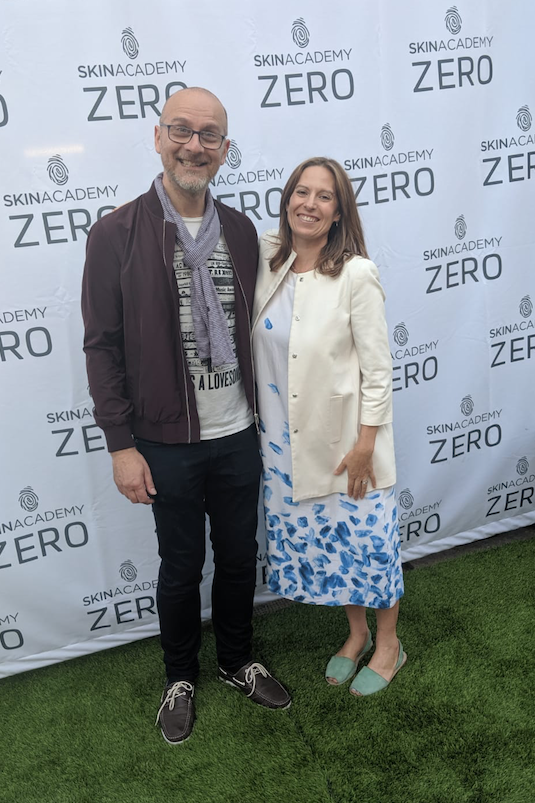 Although the formulations aren't radically different to some product ranges we've seen on the market, they do use an interesting 'hero' ingredient in sacha inchi seed oil. I don't know much about this oil, but understand it's rich in polyunsaturated fatty acids, and purported to be good for wrinkle reduction and/or prevention.
It's fair to say that we mainly focus on the ingredients at Skins Matter, as we do in the Free From Skincare Awards, but green, environmental and ethical considerations are always a factor in our discussions and they are always on our conscience, even if allergy and 'free from' considerations are our primary motivating force.
Skin Academy's Zero powerful USP really is its exceptional green credentials, and on this we feel they're really on the money, and capturing the current zeitgeist — although I hesitate to use that word, as environmental matters should become a way of life for all of us not a 'trend' that has its moment one day and then is forgotten the next …
So what does it offer? The retail boxes are based on the maximum percentage recycled content that doesn't compromise labelling print quality (all important for those with allergies), with the rest sustainably sourced. The tubes are bioplastic, manufactured in a manner that lowers carbon emissions, and are fully recyclable. Lids on the glass jars are compostible. Even the transit cartons used to deliver stock are 100% recycled.
Although a global skincare company, and part of Quest Personal Care, Skin Academy is a British brand, a family brand — Wagman's daughter Holly is head of NPD and marketing, and there are other family members in support too — and we'll be keeping an eye on them to see how the range develops over the coming months and years. Some fragrance-free additions? Some body care products? Or hair?
Let's wait and see …
To learn more about the Skin Academy Zero range, click here.