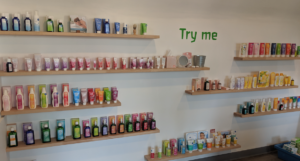 Earlier this year, Weleda won the 2019 Free From Skincare Award with their Skin Food Body Butter. Last month, Award Administrator Kirsty Mawhinney took a road trip to visit the Weleda offices in Ilkeston, Derbyshire, to present the team with their trophy. Here's how she got on. 
Visitors to the Weleda offices are greeted at reception by a wonderful wall of Weleda skin care products. Once I arrived, I felt as if I'd stepped into an Alice in Wonderland when I saw the invitation to "Try me" …
Weleda was founded in 1921 by the Austrian philosopher and natural scientist, Rudolf Steiner, Dutch doctor Ita Wegman, and Oskar Schmiedel, a chemist and pharmacist from Munich in Germany. The company is still based on the philosophic ideology and values of anthroposophy — a system established by Steiner which is based on natural means to enhance health and well-being. The brand itself covers skincare, cosmetics, homeopathic remedies and anthroposophical medicine.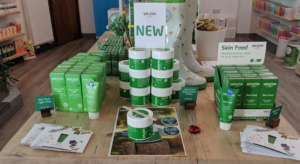 It is more relevant today than ever before, incorporating values of sustainability, biodiversity, and ethical treatment of workers. Weleda is one of only two cosmetics brands to carry the Union for Ethical BioTrade mark.
Weleda's Skin Food range has a bit of a cult status amongst consumers — and has been nourishing dry skin since 1926! In 2018, the Body Butter was added to the range, and it didn't take long for it to make its mark … Skin Food is based on a formula rich in active ingredients with high-quality plant extracts derived from pansy, rosemary, chamomile and calendula, as well as highly nourishing oils and waxes. If you have used it, you will be familiar with the soft hint of sweet orange and aromatic lavender.
For years I have wanted to make a pilgrimage to Weleda's biodynamic garden, which is open to the public during the summer. Head gardener Stuart kindly gave me, a keen amateur gardener, a personal tour. It was most educational. Although I was not seeing the garden in the height of colour and splendor as the summer harvest took place in the previous month, there was still much on offer — echinacea, musk mallow, St John's wort, deadly nightshade and poison ivy. Stuart helped identify a wildflower which I had discovered on the fells in the Lake District and wanted in my wildflower meadow at home. Thanks to him, I now have incorporated great burnet into our planting scheme.
It seemed the perfect setting to present the Free From Skincare Awards trophy to Weleda's Marketing Director Beverly Hendrick (pictured below, right), and I was delighted to do so under the garden's giant oak …