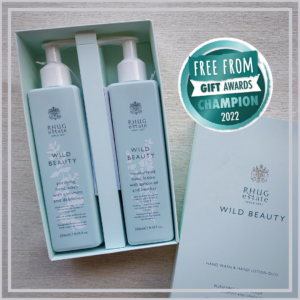 Earlier this month we announced the winners of the second Free From Gift Awards, which we initially launched in 2020 to celebrate and reward the best gift boxes, pampering stocking-fillers, skincare collections and beauty pairings on the market. 
Triumphing as overall champions were Rhug Wild Beauty, who you may recall won Best Free From Brand earlier in the year in our main Free From Skincare Awards — along with a number of accolades for their individual products. Their Hand Wash & Lotion Duo was described by judges as "a beautifully elegant duo in a chic box: so simple, smart and both delightful products. A gift set which anyone could enjoy and be left feeling very special indeed". 
Rhug just pipped Tropic Skincare's Ocean Treasure Facial Favourites Collection and Blue Labelle's Moroccan Spa Set to the title, and those two stunning products were very worthy overall runners-up. You can find the full list of winners in all 11 categories by clicking here. There are literally dozens of wonderful products, by wonderful brands, which would make wonderful Christmas Gifts this year …. 
Many of our followers will be particularly interested in our more 'free from'-focused entrants, including those which were fragrance-free, and those aimed at Sensitive Skin.
We did have a category dedicated to Sensitive Skin, the winners of which you can see here. 
Regular participants and multiple winners Lyonsleaf took Gold with their Natural Skincare Solutions 04 Gift Box, featuring their Unfragranced Beauty Balm and their Zinc & Calendula Cream. From Ireland, Trish's Honey Products bagged Silver for their Bee Gift for Sensitive Skin (two unscented beauty products, plus two beeswax candles), and newcomers Elave Skincare bagged a double Bronze for their very affordable and generous skincare sets for problem skins, which may not have been as 'natural' as many other entrants this year, but were certainly among the best for 'low allergenicity'. 
Another winner which would have been worthy of a medal in this category, but which was submitted into a different one, was Green People's Be Kind — consisting of Scent-Free Cleanser, Day Moisturiser and Eye Cream: a lovely gentle trio in a smart white box which anyone with skin sensitive to fragrance would welcome at this time of year. Find that, and other Face Care category winners here.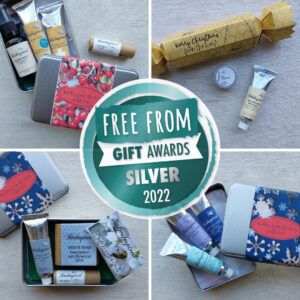 And finally, we can't not mention the extraordinary achievement of BeeInspired Skincare, a small brand based in Surrey, founded by Allison and Robin Derrick who keep their own bees and produce their own bee-based products, including skincare, from their home in Thames Ditton. They took home six — yes, six, that's half a dozen, that's a double hat-trick! — Silver medals, across a number of categories, including Family & Men's Skincare and Stocking Fillers. You can't fail to bump into one of their many medallists as you scroll through the winning categories on the site! 
For an easier 'scroll-through', you might like to swipe up and down through our Instagram page, where all of the entries and entrants were welcomed, and where all of the Gold category medallists, and some other medallists, have been pictured. Do take a look here. 
Free From Skincare Awards 2023! 
After Christmas and the New Year we will be very quickly turning our attention to the twelfth Free From Skincare Awards, which open a little earlier than usual, in mid-January. 
Regular participants will by now be familiar with how we work, and very little will be changing for 2023, but for those new to us, you can be led through all the stages of our Awards, all our categories, all our requirements, terms and conditions, as well as the all-important benefits to brands for participating in the Awards, by starting at How to Enter the Awards on our main Awards website.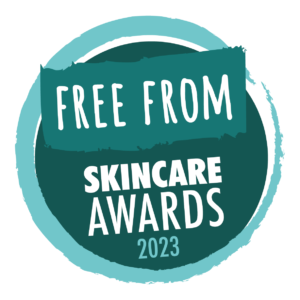 We do have one key new category — Digital Presence! 
This has been an established category in our sibling Free From Food Awards for a few years, and we thought it was about time we introduced it into the Free From Skincare Awards too.
Why? Well, because 'free from' shoppers, who as we all know require extra time to find products which are 'free from' the ingredients which they need to or want to avoid, often do their searching online, using websites, web-shops, and brands' social media accounts to find out which products may (or may not) be suitable to them.
A good Digital Presence — with clear navigation tools, declared ingredients, useful 'free from' information, a good Q&A / FAQ resource, supported with strong graphics and imagery — is therefore important to 'free from' shoppers. We will be looking to reward the best, as well as recognise the brands whose social media channels demonstrate strong, genuine interaction and engaging content.
We hope brands decide to support this newest of categories, as well as other categories, with their entries when the time comes. Remember, 'early bird' entry, which runs from 16th January 2023 through to the 5th February 2023, will entitle all entrants to 10% discount of main entry fees, and small brands (with only one or two individuals in the company) get a further 20% discount too!
We can't wait to see what exciting, innovative and original products are submitted next year … Our army of 100 testers and 20 judges will be waiting!