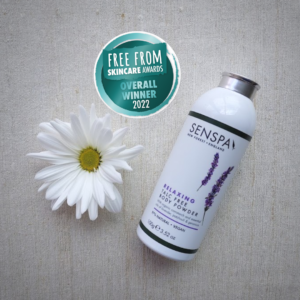 Beauty journalist and Free From Skincare Awards judge Sara Niven speaks to Lina Lotto, Spa Director at SenSpa, who last month were crowned Overall Champions at the 2022 Awards for their Relaxing Talc Free Body Powder. 
When New Forest-based SenSpa first opened its doors in 2004, spa director Lina Lotto struggled to find naturally formulated products she felt were the right fit for the luxury, Thai-themed establishment.
Little did Lina know that she would later be instrumental in formulating the spa's very own range, which launched in 2013. Almost a decade later, SenSpa continues to boast a well-established, but ever-evolving collection of award-winning hair, bath and body products.
SenSpa's Relaxing Talc Free Body Powder is their most recent winner, having just scooped the Overall Champion award at the Free From Skincare Awards 2022. It completes a hat trick of accolades for the product which also scooped Gold in its category — Body Care (Leave On) — in 2016, and 2018, as well as this year.
The company's success comes at a time when Johnson & Johnson has just announced it is discontinuing talc-based baby powder and will be switching to using cornstarch. This has always been the main ingredient in SenSpa's winning formulation.
"We use starch from the humble corn plant which can ease skin irritation and help to eradicate fungal infection through its absorbent qualities," explains Lina. "Other ingredients in this product include magnesium carbonate, a naturally occurring white mineral used as an anti-caking agent, and benzyl alcohol, an anti-microbial agent, which is a constituent of natural essential oils.
"People tell us they use our body powder in a multitude of ways – to alleviate chafing, for oil-free massage, to freshen up after the gym, or they even sprinkle a little into shoes or on bed sheets and towels. It has really come into its own during the heat wave and is a big hit with those who loved talc but stopped using it due to the well-publicised health concerns. However, we know it has also converted many who have never used talc or body powder previously — as it did some of the FFSA testers! One of the great things about entering the Awards is the comprehensive feedback we get from testers which is so valuable for a brand."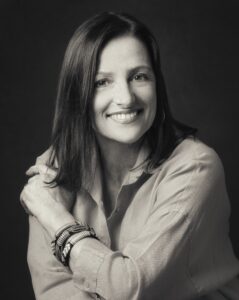 The scent of lavender, geranium and patchouli provides a luxury touch to the body powder, which, like all the SenSpa products, is free from synthetic fragrance and is scented with essential oils.
While Lina (pictured right) acknowledges that fragrance-free products can be more suitable for those with allergies and sensitive skin, she explains the aim of the SenSpa range is to combine a luxury feel with affordable, functional skincare based around sustainable, natural formulations and essential oils are seen as part of that.
"Aside from our SenSpa blend oils, the products don't contain the high quantities necessary for aromatherapy, which may also be more likely to trigger allergic reactions for some people," she says. "Rather they are aimed at providing the psychological benefits of using naturally scented skincare that uplift or promote a feeling of relaxation. All the formulations are pH balanced and gentle, and we have had some fantastic feedback from customers with sensitive or problem skin."
Other products in the vegan-friendly SenSpa range — which until last year was exclusive to Waitrose but can now be found on Amazon too — include shampoos, conditioners, a hair mask, hand soap, hand washes, body lotion and more. Relaxing Talc Free body powder retails at £7.50 for 100g in smart, recyclable packaging and the majority of the products are all well under £10.
"When the opportunity came up to launch our own range, affordability was a key factor and one of many considerations," explains Lina. "Using synthetics helps keep prices low but doing this would have been completely contrary to our ethos at the spa which is to use only products with naturally derived ingredients, preferably organic."
Whilst Lina admits she is "no chemist!" and says she approached the project more from the viewpoint of a consumer, her background ensured it was a particularly informed one. She boasts an incredible 26 years working in the spa industry across Asia, Australia and the UK. In Thailand, Lina was spa consultant to the Dusit Group which launched the premier Thai spa brand Devarana.
"We decided to approach the SenSpa product formulations as though they would be certified by Ecocert [the 1991 French-founded organic certification organisation], although we have not gone down the certification route," adds Lina. "Certifications would have added expense we didn't want to have to pass on to our customers. They are also potentially limiting in terms of suppliers and raw materials we can use so this was never our aim, but we feel the formulations speak for themselves."
All SenSpa products are free from parabens, sodium lauryl sulfate, mineral oil, phathaltes and petroleum-based compounds. Synthetics are limited to a few preservatives.
"The Free From Skincare Awards are especially relevant for SenSpa and a fit for our philosophy," summarises Lina. "Our intention from the outset as a spa has been to look after our customers' wellbeing through hydrotherapy, therapy and fitness and our product range is an important part of that broad support. These awards are entirely independent which means no other agenda inhibits their aim to help the public make the best personal skincare choices. That is a truly valuable accolade and to have won with our beautiful body powder is an honour."
SenSpa products can be purchased direct from the SenSpa Boutique, from Amazon UK, and from Waitrose.