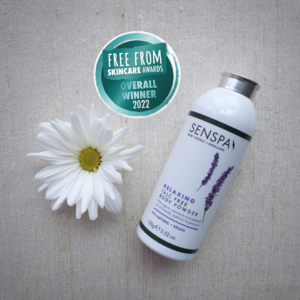 On Tuesday 19th July 2022 the winners of the eleventh Free From Skincare Awards were announced online, in an all-day extravaganza, beginning at 9.30 am on our Twitter stream and on our Instagram page, and ending at just gone 8 pm, when SenSpa's Relaxing Talc Free Body Powder was declared the overall champion of 2022.
If you've not yet managed to catch up with the winners, then click through to them in all their glory here, where you can see the five very worthy runners-up, followed by links to the winners in the special categories (Best Free From Brand, Free From Achievement, and our new and all-important category of Best Labelling), plus links to winners of the 16 main product categories.
It's quite a roll call, and under each medallist is a long comment from one of its testers, but if you need a straightforward list of all medallists for reference, you can download one from the press and media page.
SenSpa's product had won Gold in its category (Body Care (Leave On)) in 2016, in 2018 and now in 2022, so it was perhaps inevitable that it would eventually bag the top prize, given that over the years it had been trialled by 12 of our experienced testers, and scrutinised by perhaps 8 or 9 of our judges, and none of us can recall a word of criticism ever being heard. It's just a terrific product. A simple formulation, done well; a clear 'free from' skincare product, which replaces talcum powder with corn starch and magnesium carbonate, adds some delicious fragrance and very little else, and bingo — it's the champion. And at under £10, a bargain too.
We'll be bringing you a feature and interview with the SenSpa team in the coming weeks, so do stay tuned for that.
Also stay tuned for a feature on some of our Free From Achievement winners, including a trio of excellent and very minimalist brands from mainland Europe (Merme Berlin, LUMI and Laponie of Scandinavia), who performed exceptionally well. More on them another day.
There were some particularly interesting winners elsewhere. As always, some debutantes and small brands assume that they will never win — and yet every year some do. We try to maintain a level playing field in the awards. Larger brands may seem to do better, but often this is because with bigger budgets, they can more easily afford to submit multiple products, and increase their chances. They also may be able to spend more on certifications and more thorough assessments of (for example) their labelling compliance, which may be credited during judging.
But small brands who get it right can and do do well, and our testers genuinely love discovering new brands. Even a tiny new brand submitting one product can win a medal. LaFemmeVerte are a case in point. In their debut year, with an original focus on skincare for menopausal women, and founded by two sisters, and off they trot with a lovely shiny Bronze in the Face Care (Rinse Off) category for their Radiance Day Cream. "I'd give it 11 out of 10 if I could," enthused one of our testers!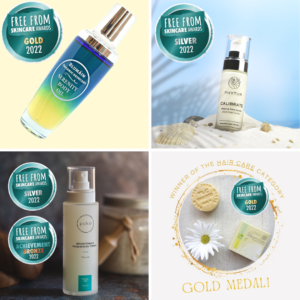 We have to give a nod to the Irish brands this year too, some of which are pictured right. Blumain Skincare, who've been regular participants since 2015, and have picked up several medals over the years, achieved their first Gold in the Body & Bath Oils category, for their divine Serenity Body Oil. The Moher Soap Co., on only their second appearance in the Awards, bagged the Gold in the Soap Bars category, for Burren Meadow. The Palm Free Irish Soap Co, meanwhile, had a stormer of an Awards, with two Bronzes, two Silvers, and a Gold in the Hair Care category for their TLC Shampoo Bar. While Dublin Herbalists, on their debut no less, walked off with three silvers and three bronzes! Other Irish medallists included InnerZen Organics, Poko Skincare, Phytur Skincare and Glow Circle.
We wonder whether they were all inspired by Niamh Hogan and Holos' incredible win from 2021?!
We had a new category this year — Best Labelling — to recognise those brands which effortlessly and clearly convey accurate, compliant information to consumers, especially those who have to avoid or want to avoid particular ingredients. The inaugural Gold went to FFSA regulars Odylique, who have been participating since the very beginning, and manage to get across so much information on their labelling, without any sacrifice in clarity, that there can be no consumer who can't find what they need within seconds of scrutinising their products. They thoroughly deserved it.
But so did all other medallists, and we urge you to dip in and check at least some of them out, in the categories which most excite you. We can't mention them all here, but they are yours to discover, and we'll continue to mention them on our social channels in the coming weeks, so perhaps follow us there too if you can …. Enjoy!
To view all winners, click here.
To view our winners on Instagram, click here.
To check out media coverage of our winners, click here.