We always encourage questions about how we run the Free From Skincare Awards, and one of the most common we get asked, usually in general conversation, is 'What do you do with all the left-over products from the Awards?"
The short answer is that nothing, if we can help it, is wasted, and is put to good use and purpose.
The long answer? Read on ….
Entrant Samples
Brands who enter the Free From Skincare Awards are generally asked to submit six samples of each entry. The exception is for single-use products (such as bath bombs, sheet masks) where we normally require around 20 or so.
Of those six samples, four are sent out to our product testers — that's four of our 100-strong team of experienced testers, who have been carefully chosen and matched with the products allocated to them, to correspond appropriately with their skincare routine, cosmetic preferences, skin / hair type and other requirements such as allergies.
The remaining two are used for a number of purposes:
As spares, should one of the testers suffer a reaction to a product, and we require another tester to trial it instead, or if tester parcels go missing in the post (we send their allocations by recorded delivery, so this is thankfully rare), or if there are breakages in transit, and we need to send out a replacement.

For photography: at various stages of the awards we take images of the products for social media, for example, as you can see from our Instagram Page.

For reference: during the testing period, our testers often come to Alex with questions about products, so having them to hand to refer to is important, as it is after the Awards are over, when feedback is being given to participants.

For judging: clearly, we need to open, examine and trial products during our judging sessions.

For display / testing: when we are able, we exhibit at the Allergy & Free From Show in London, and usually offer a table of Free From Skincare Award participants for visitors to the show to trial at our stand (as pictured above right, from 2017).
When all is said and done … 
Inevitably, when all is said and done, we do have left-over products too.
It is important to us — and important to us that entrants know — that these products do not go to waste.
Occasionally, Skins Matter readers ask us for product recommendations, and we may suggest some of our previous Award winners or participants — and if we have any spares 'in stock', we sometimes offer to send one, and we know brands have gained new customers thanks to this. 
We do allow judges to take a few samples of products they have particularly liked the look of during judging sessions. Judges are unpaid, and although obviously we caffeinate and feed them during their day's work, and refund their travel and other expenses for the day they give to us, we hope you'll agree that they deserve to choose one or two items that, we often find, they then go on to feature on their blogs or talk about on social media, therefore giving participating brands additional exposure. Some examples can be found here and here from our regular judge, Sarah Coleman (Sugarpuffish), from her choices last year.
We do keep some winners ourselves, too — for any future requirements for photography or display that may come along.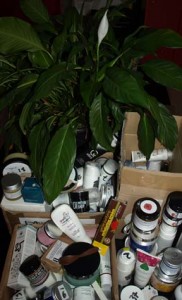 But the vast majority, though, goes to charitable causes. Historically, many of our products would go to charities local to our previous offices at Belsize Park at the time — namely the Marie Curie Charity Shop at 169 Haverstock Hill, NW3, and sometimes the FARA Charity Shop at No. 204. We tended to give the more 'luxurious' products to these shops, namely oils and serums, in the hope that they could realise some good funds for equally good causes.
With regard to soaps, shampoos and shower gels, for example, many over the years have been given to The Simon Community, a charity caring for the homeless, who were also local to our offices at the time. Pictured right is a selection of boxes being prepared for donation to them several years ago.
Last year, Alex donated a substantial quantity to Watford Women's Centre, a charitable volunteer-led organisation that offers counselling and support to women in need.
We don't expect more than a thank you when products are donated, but it is touching to receive messages such as this, from Fiona Miller, WWC's CEO, earlier this month:
"I just wanted to let you know that your donations of skin care for our clients and volunteers was really appreciated and gave some of our women who are living with domestic abuse or in some cases fleeing domestic abuse, a special treat at a time when they were not feeling their best. We were also able to reward our volunteers who worked hard over the pandemic to make sure that we were still able to offer our services when they were needed most"
Ahead of the announcement of the 2021 Results last week, the WWC kindly re-shared the sentiment on Twitter, while wishing all entrants luck.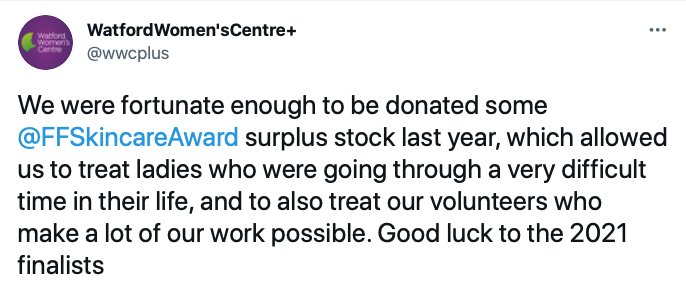 We're not sure yet what we will do with the 2021 samples we still have at our offices, but we'll try to keep you posted, and hope that entrants — especially those who don't win — are pleased that their samples do find good homes, and bring pleasure to many people.