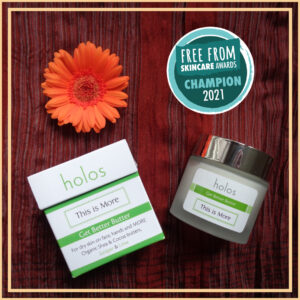 On Wednesday 7th July the results of the tenth annual Free From Skincare Awards were revealed. If you've yet to catch up with the winners, start on the main winners page — where you'll see that Holos's This is More Get Better Butter triumphed, taking Gold in Problem Skin category and winning the Overall Champion award for Best Free From Skincare Product for 2021.
Scroll down to see the deserving runners up — including products by Scence, Eco by Sonya, Made on the Chalk, Grace & Blume, and Hairy Jayne — as well as Best Brand medallists (including Gold winners Eco by Sonya and Lyonsleaf), and Free From Achievement medallists (including Gold Winners Matinata, Scence and Lyonsleaf), followed by click-through links to all 16 product categories, where you can see all winners, click through to their websites, and read some comments from our testers who put the entries through their paces for a month.
It's quite a roll call of winners, and if you need a straightforward list of all medallists for reference, you can download a list from the press and media page.
Although as organisers we must remain independent, and strictly allow our testers and judges to decide the results, we're always pleased for our winners, and it's hard not to be delighted for Niamh Hogan of Holos, whose brand narrowly missed out on the top prize in 2020, when their Super Natural Activity Pre and Pro-biotic Spritz finished a very close runner-up. We'll be bringing you an interview on the Skins Matter site with Niamh very soon, so please stay tuned for that.
As well as Get Better Butter did — and it scored the highest average score among our testers of the 300+ products that were entered, at a whopping 9.6 — there were other notable strong performances.
A hat tip first to Hairy Jayne, who successfully defended her Hair Care category Gold award from 2020 (for Citrus Shampoo Bar), by winning top prize again for Treatment Conditioner — two overall runners-up in successive years is quite something.
There were some debutantes who not only won Golds, but also finished overall runners-up — Scence, Grace & Blume, and Made on the Chalk each busting the popular myth that you can't do well on your first attempt. You really can. As we've said many times before, we honour the results — if your product performs well enough, impresses the judges enough, it will do well, no matter who you are. Yes, the bigger brands appear to do better overall, but it's another myth that that is necessarily because they have better products — in our experience, it's generally because they enter more products, and the more hats you throw into the ring, the more chances you have …
Lyonsleaf are one of those brands who support our Awards with a generous quantity of entries, and in adding to their huge tally of medals over the years took Gold in both Best Free From Brand and Free From Achievement this year.
Eco by Sonya, another strong performer, with one category Gold and two category Silvers, plus Best Brand, also deserve a special mention, as do our 2019 champions Weleda, who took two category Golds with products from their new Prickly Pear Cactus range.
But in truth, all winners — and those reaching the Final too — deserve a mention, because the standard of entries was so high this year, and average scores from testers have never been as impressive as they were in this, our tenth year of running the Awards. Congratulations to all of them! Do please check them out, give them a follow, and perhaps support them with a purchase too.
To view all winners, click here.
To view our winners on Instagram, click here.
To check out media coverage of our winners, click here.